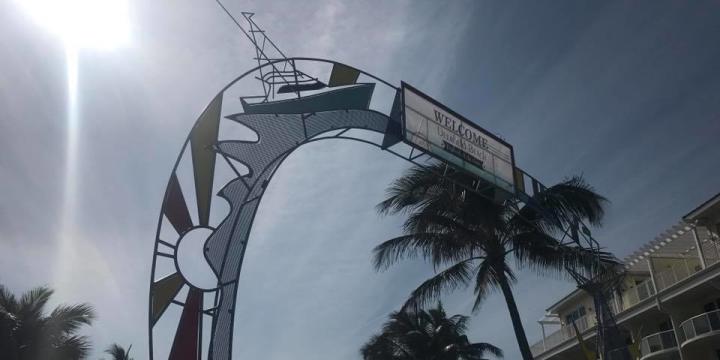 A spectacular, warm, sunny day greeted the visitors to the 37th Annual Festival of the Arts in Deerfield Beach on Saturday, January 28. Held along Ocean Way, south of the International Fishing Pier, over 110 artists, food vendors and entertainers greeted thousands of folks. Located just steps from the white sandy beach overlooking the crystal blue water of the Atlantic Ocean, the backdrop for this event was breathtaking.
The highlight of the Festival of the Arts this year was the entrance way sculpture by a local artist Emily Pinnell. A recent graduate of the University of North Florida, this 24-year-old Lighthouse Point resident crafted a 19-foot high by 23-foot wide aluminum structure featuring a tuna and sportfish yacht. This entrance way feature held the events annual poster on each base of the curved structure.
This year's poster was designed by Pompano resident Al Pellenberg, a pottery artist. He used a series of pictures and enhanced them in Photoshop to create a digital image filled with vibrant colors. With chairs in the foreground and the pier in the background, Al captured the essence of what makes Deerfield Beach charming; a relaxed setting of tranquility.
A special guest artist was also displaying his many watercolor prints, Bob Kennedy. A resident of Cape Cod, with galleries along the eastern seaboard, including Key West, he graciously donated a watercolor for the evenings VIP party to benefit the Art in Education project. The VIP Party was held on the International Fishing Pier and catered by Oceans 234 restaurant on Saturday evening. About 100 guests joined local dignitaries including some of the Festivals artists to enjoy a pleasant evening with a wonderful atmosphere.
This festival has a distinguished panel of judges awarding $5,500 in prize money and sponsored by the City of Deerfield Beach and the Cultural Committee. This is one more outdoor event on the last weekend of January you need to add to your list of things to do in the Greater Fort Lauderdale area.