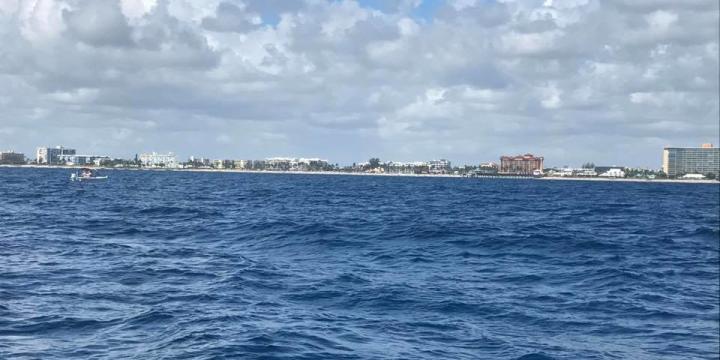 Underwater Report
8am-outside air temperature - 82 degrees, warming to 90 degrees by 10am. With a gentle east wind, this was a great diving and boating day in South Florida. 80-degree water temperature with one-foot waves, a very mild north current and visibility of 40 feet.
Vessel & Crew
Private vessel-Chiefy (29' Sea Vee with twin Mercury Verados)
Crew-Chuck Van Buskirk, Joey Baleda, Ben Fallon and myself.
Dive, Dive, Dive
In our effort to always look for new and exciting ways to enjoy diving, Chuck and I dove together (The Old Guys), challenging Joey and Ben (The Youngsters). It's always fun to mix it up with the Chiefy crew but glad the Old Guys WON!
Joey is a dive instructor with a local dive shop and originally from Detroit. He's got great hunting instincts and as an instructor, has great dive skills. Ben is here for three months and then aboard a tanker ship for three months, so his time is limited for diving. He's originally from Iowa, coming here via New England and Jacksonville, with a young family who also fills his time off. He also has great hunting instincts and has advanced levels of dive certifications. Chuck is a close friend who I worked with at Deerfield Beach Fire Rescue and typically is part of the crew now that he's retired also. Like me, he has Advanced and Nitrox Level of certifications and has been diving and hunting a long time. All of us live in Deerfield Beach.
The point of giving you info on the Chiefy crew members is to reinforce the need to have proficiency in your diving abilities if you decide to take up underwater hunting. Spearfishing requires complete mastery of your diving skills.
We jumped in on several of the wrecks in the Deerfield Beach area, as we were targeting larger fish. Wrecks offer a location for fish to congregate around, so they are great spots to get a nice dinner. We like to drift dive the wrecks, so with the mild current, it was easy to jump in on the wrecks and then drift off them to nearby reefs. These wrecks are in 65 feet of water and located near the third reef.
Our catch were some nice sized Hogfish and a few Yellow Jack. And luckily, the Old Guys ended up getting a few more fish than the Youngsters. The good news is diving and spearfishing are great at any age in the Greater Fort Lauderdale area.