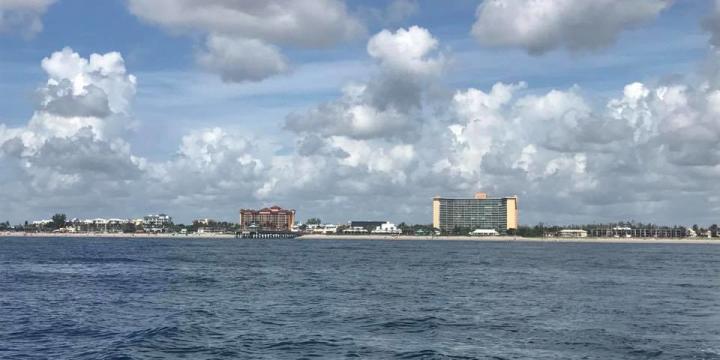 Underwater Report
8am-outside air temperature - 82 degrees, warming to 93 degrees by 10am. 82-degree water temperature with one-foot waves, a very mild north current and visibility of 40 feet.
Vessel & Crew
Private vessel-Chiefy (29' Sea Vee with twin Mercury Verados)
Crew- John Strunk, Chuck Van Buskirk, David Wood and myself.
Dive, Dive, Dive
Today was a spearfishing and scouting mission in preparation of spiny lobster mini season at the end of the month. This combination of scouting and spearfishing allows us to look for spiny lobster to determine where we will dive on spiny lobster mini season. That's important, as you've got to have a plan.
Our focus has shifted to the second reef system for scouting as the spiny lobster tend to come in to the shallow reefs this time of year. There's plenty of very shallow reef (first reef) in 15 feet of water, but we try to limit our diving to the second reef, found in 35 feet of water. The first reef is only 500 feet off the white sandy beaches and great for beach diving. The second reef starts at less than 100 yards off the beach, so our diving off the boat is still very visible from shore.
John and Chuck dove some of the second reef off Deerfield Beach. These are islands in a north/south configuration, so it's easy to follow once they jumped in. David is from North Carolina and helped install the underwater camera at the end of the Deerfield Beach International Pier a few years ago. He was impressed with the reef structure so close to our beach and pier. We did find a few spiny lobsters and I was able to get a red grouper, so the scouting mission was a success. The plan for spiny lobster mini season was starting to take shape and we could get some fish.
It was nice to show David the reefs around the area of the Deerfield Beach International Fishing Pier and to also get some fresh fish for dinner. Being able to scout for some spiny lobster allowed us to create our plan for lobster mini season