Above Water Report
8am-outside air temperature – 80 degrees, warming to 91 degrees by 10am. A calm, gentle south wind, with clear, sunny skies.
Location & Crew
Location-Ocean's 234 Deerfield Beach
Crew-Fransisco Loffredi, Rosie Moore, Robin Berg, and myself.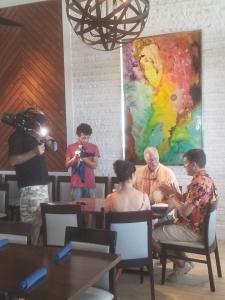 Eat, Eat, Eat
There was no diving today, even though the conditions were great, it was more filming for the One Breath TV show. We did some shooting and scouting yesterday for the show featuring Fransisco diving with the Chiefy crew in preparation for spiny lobster mini-season which starts tomorrow. The shows concept is to explore and introduce some of Fransisco's dive friends. What better way to get to know everyone then to have lunch at one of my favorite Deerfield Beach restaurants, Oceans 234.
The location of Oceans 234 overlooking the white, sandy beaches makes an ideal spot for filming. It was a beautiful afternoon with the ocean and the Deerfield Beach International Fishing pier in the background. We had just dived this area yesterday and were looking forward to diving the spot tomorrow.
Rosie is a freediver and underwater model who specializes in being photographed with sharks. Fransisco has dived with her in the past and wanted to get everyone together to chat about diving in the greater Fort Lauderdale area. Secretly, I think Fransisco wanted to see the exchange with the young and good looking (Rosie) and the old and seasoned (me) divers. I think the dynamic worked well for this episode.
Knowing our background of being ocean divers, Executive Chef Willi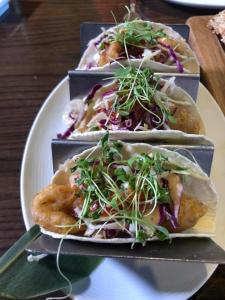 am Middleton created a delicious assortment of appetizers and entrees for our tasting pleasure.
First up was the Baja Fish Tacos made of crispy grouper, chipotle cream, tomato jam with cabbage jalapeno slaw. These were lightly battered chunks of fresh grouper with some zesty sauces producing some stimulation for your taste buds.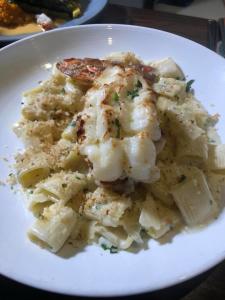 Then the entrees started with my favorite, Lobster Mac N Cheese with a ½ pound lobster tail over a bed of rigatoni pasta with a cheese sauce. The dish was both great eye appealing and a delicious flavor that wasn't overly filling. I don't know if Chef William knew we were about to dive for spiny lobsters tomorrow as the start of mini season, but he sure wet our appetites with this dish.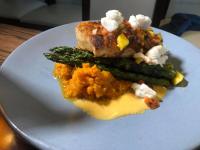 The next entrée was a blackened Mahi Mahi with crab meat fruit salsa, sweet potato mash with grilled asparagus and citrus beurre blanc. This was such a delicate flavor with the right amount of blackening to offset the perfect blend of fruit and vegetables.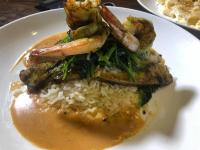 The last entrée was the Thai Pesto grilled snapper + shrimp with Jasmine rice, sautéed spinach and red coconut curry. Grilled to perfection, the snapper and shrimp made a perfect combination balanced with the rice, spinach and curry.
We had to keep reminding ourselves we were diving tomorrow and not over do it. The lunch at Oceans 234 was a nice combination of diving and eating locally prepared seafood. Viewing the location where we are preparing to dive tomorrow, while eating a delicious lunch, created an awesome experience we will cherish for a lifetime.