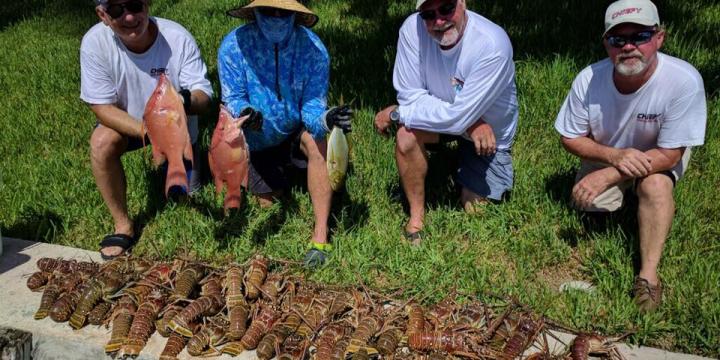 Underwater Report
8am-outside air temperature – 79 degrees, warming to 93 degrees by 10am. A calm, gentle breeze, 84-degree water temperature with flat seas, a mild north current and visibility of 60-plus feet on the reef.
Vessel & Crew
Private vessel-Chiefy (29' Sea Vee with twin 300 hp Mercury Verados)
Crew-Chuck Van Buskirk, Andrew Rubin, John Strunk, Roger Soles, Miami Herald Outdoor writer Steve Waters, Fransisco Loffredi, Robin Berg and myself.
Dive, Dive, Dive
It's showtime for Chiefy crew and we're ready for this year's spiny lobster mini season. These are the same guys I've had on my boat for the past ten years, so we're a well-oiled machine!
Our routine is to leave the dock at 6am to be in the water no later than 6:30am. Today we had a film crew for the TV series One Breath and Miami Herald Outdoor Writer Steve Waters. The best part was we were all getting in on the harvesting of spiny lobster.
For mini season, in the Greater Fort Lauderdale area, divers are allowed a double limit of 12 per person per day of the two-day event. Mini season was created to allow recreational divers an opportunity to harvest lobster before the regular season begins on August 6.
We had divers in the water at the crack of dawn requiring the use of underwater lights. We dove the same area we had scouted just two days ago, and the results were outstanding. Being season veterans of many past mini seasons, the crew knows there's a lot of other boats and divers on the reef. We were fortunate to work an area and within a very short time, the first group of divers had their limit. The next group of our divers followed right where the first divers had finished and found their limit.
Then it was time to get Fransisco into the water to be videoed catching his lobster freediving. This is not easy, as he found a nice group of lobster in 35 feet of water, however, he had to go down holding his breath while trying to capture his limit. During this time Robin was filming him and the crew as we were showcasing mini season in the Greater Fort Lauderdale area.
The best news was we each were able to get our limit of 12 per person resulting in a total harvest of 84 spiny lobster. It was a great feeling heading back to the dock knowing we got our mini season limit, participated in a TV series and would have a great article in the print media coming out in a few days.
The Chiefy crew had a great day diving in the greater Fort Lauderdale area!