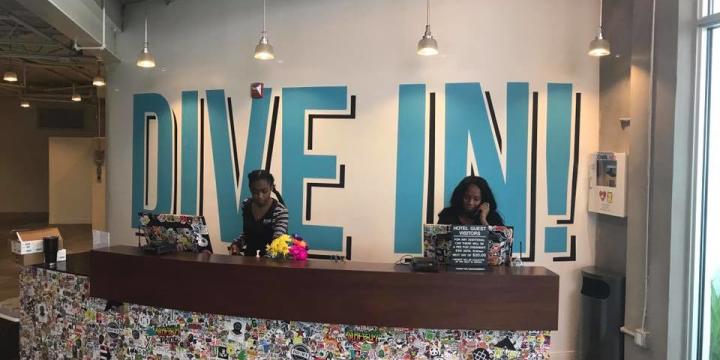 Bugfest is a celebration of spiny lobster mini season for divers and in its sixth year for the Town of Lauderdale-by-the-Sea. This year's events were held at the Plunge Beach Hotel www.plungebeachhotel.com which provided a spectacular backdrop for the festivities. I've had the pleasure of being involved since the beginning of Bugfest and have witnessed it become a premier dive event.
My free seminar started the Bugfest event and was held in the main lobby of the hotel at 6pm. The seminar was geared for lobster hunters, new and old, and followed by book Catching the Bug-2nd Edition. An audience of over 40 divers filled the room as my interactive presentation followed a three-step format; Find the Lobster, Catch the Lobster and Eat the Lobster. The presentation is both educational and entertaining, as new divers learn the ability to harvest spiny lobster and it gets folks salivating at the thought. There aren't too many locations in the world were scuba divers can legally catch lobster off white sandy beaches. Our reef structure in the Greater Fort Lauderdale area starts in just a few hundred feet off the shore and in depths of 15 feet of water.
After my seminar, we all headed to the hotels second building, located directly on the ocean. The Kick-off Party was centered around their pool and bar area. Each participant was given two free samples of Reef Donkey IPA beer, and there were also some mermaids, the Scuba Cowboy playing some tunes and Greg the Divemaster from ScubaRadio as Master of Ceremonies.
Folks signed up to participate in the Bugfest tournament for the largest caught lobster and most total weight of lobster. Mini season starts Wednesday and Thursday after this event so divers were busy discussing their diving plans. Some were going out off the beach at midnight while others were going on a dive charter in the morning.
The festivities continued throughout the week with a lobster cooking contest on Thursday evening and a concert to benefit Dive Heart to conclude the event on Saturday night. This event is something to get excited about as the entire Town of Lauderdale-by-the-Sea rolls out the "Red Carpet" for divers. It's known as the "Shore Dive Capital of Florida" and the town lived up to its name this Bugfest.  Plan on attending next year's mini season which is scheduled for July 25-26, 2018 to 'Dive In' to this great event.