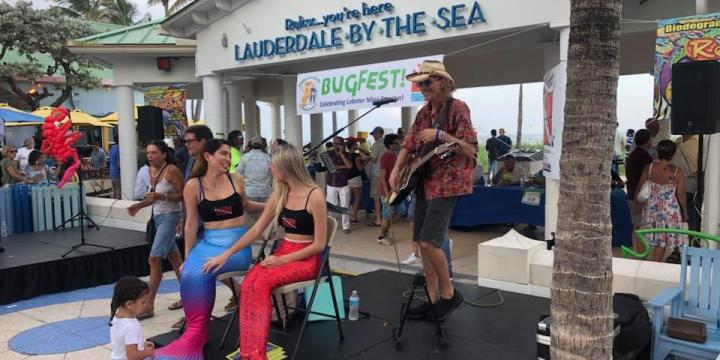 Underwater Report
6pm-outside air temperature – 85 degrees with a calm, gentle breeze off the ocean and no chance of a shower. A perfect evening to have an outdoor festival at Lauderdale-by-the-Sea.
Location & Crew
Location-The Beach Pavilion at Connie Hoffman Ocean Plaza in Lauderdale-by-the-Sea
Crew-Paul Struzziero, Tom Campbell, Chuck Van Buskirk, Andrew Rubin, Miami Herald Outdoor writer Steve Waters, and myself along with our wives.
Eat, Eat, Eat
Probably the best part of catching spiny lobster is eating them. The Lobster Chef Competition is one of the highlights of Bugfest and the Great Florida Bug Hunt. Entertaining the large crowd were Divemaster Greg of Scuba Radio as the Master of Ceremonies along with the Scuba Cowboy providing a variety of musical selections. There were even mermaids helping with the festivities.
Over 120 divers participated in this year's Bugfest and this event continues to be one of the premier mini season festivals in Florida. Lauderdale-by-the-Sea is known as the Shore Dive Capital of Florida and Bugfest highlights these activities.
There were six teams competing in this year's Lobster Chef Competition. Each team is given four lobster tails and they can prepare them however they want for their recipe. The panel of judges take their decision seriously but there certainly is an enjoyable atmosphere as all six teams are located next to each other.
Our team from the South Florida Spearfishing Club spearfishing.org was led by Paul and Nancy Struzziero. They prepared lobster Mac and Cheese, serving it in small dishes for the judges. With assistance from several other members of the club, we had a good showing, unfortunately, we didn't win. The good news is all of us got to taste the recipes from the other teams, as there were samples provided to the crowd.
Even Fransisco Loffredi from our filming of One Breath the last few days showcasing mini season in the Greater Fort Lauderdale area, made a dish commonly found in Brazil. He didn't win either, however, it gave the competition an international flavor.
Throughout the evening, many prizes were given away to the participants of Bugfest. For the $20 entrance fee, you were given a T-shirt and for every lobster you brought in to the weigh station, you were given a raffle ticket. Tonight, was a lucky night as my ticket was pulled, winning an Aqua Lung Legend regulator. I'd say this was a great two-day spiny lobster mini season in the Greater Fort Lauderdale area.