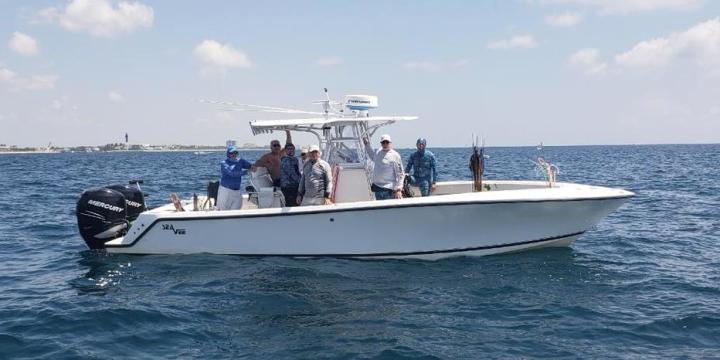 Underwater Report
8am-outside air temperature – 79 degrees, warming to 91 degrees by 10am. A calm, gentle breeze, 84-degree water temperature with flat seas, a mild north current and visibility of 60-plus feet on the reef.
Vessel & Crew
Private vessel-Chiefy (29' Sea Vee with twin 300 hp Mercury Verados)
Crew-Chuck Van Buskirk, Andrew Rubin, John Strunk, Roger Soles, Jack Harari, Miami Herald Outdoor writer Steve Waters, and myself.
Dive, Dive, Dive
Day two of the spiny lobster mini season is not as crazy as the first day. It's still an opportunity to get a double limit of the tasty crustaceans before the start of regular lobster season which starts on August 6th. The film crew of One Breath wasn't with us today but the Chiefy crew was the same, with the addition of Jack Harari.
We dove the same area as yesterday, in 35 feet of water just north of the Deerfield Beach International Fishing pier. We found a few lobsters, however, there weren't as many as yesterday.
We ventured south of the Hillsboro Inlet and found some good spots to dive off Pompano Beach. We stayed in the same depth of 35 feet and found some areas with a lot of short lobster. The lobster must be measured underwater, that's why as a diver you must carry a measuring device if you're harvesting lobster. The hard shell or carapace must be greater than three inches. Today we were finding a lot of "shorts," so we left them to grow in the future.
Another reason to dive on the second day is to find equipment some divers lost on the first day. I found a green lobster snare, which is commonly sold in the area dive shops. It seems a season doesn't go by without finding some item another diver lost. The key is to find more than you lose!!
We are also spearfishing while looking for lobster and we have found in the past, there's some nice fish hanging around. Perhaps it's because there's a lot of lobster legs or antenna for fish to feed on from Day One, allowing us to land some nice fish on Day Two. 
The totals were 45 lobster and a few fish, which isn't a bad Day Two. The report from other divers was a good mini season harvest, and tonight was the Bugfest Chef Competition in Lauderdale-by-the-Sea. And there's nothing better than to find, catch and eat lobster in the Greater Fort Lauderdale area.