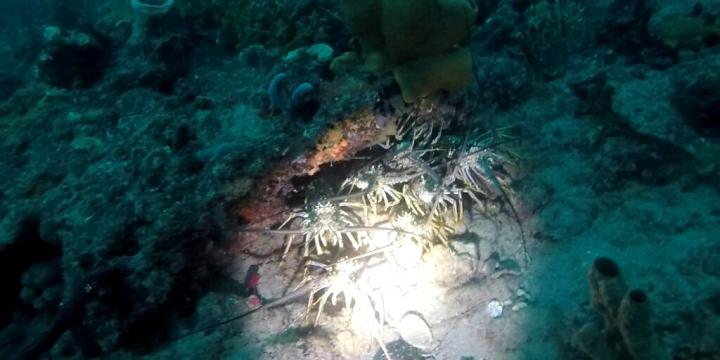 Spiny lobster mini season are the "High-Holy" days of diving in South Florida. This two-day event is held on the last consecutive Wednesday and Thursday in July to kick-off regular season which always starts August 6th. These two days are only for recreational divers, restricting the commercial lobster harvesters to the start of regular season. Traps can be placed in the water on August 1st, so the entire ocean of spiny lobsters are here for the taking by recreational divers.
Another advantage of being a recreational diver in the Greater Fort Lauderdale area is we can get a double limit or twice the normal limit of six per person per day during mini season only.
Underwater Report
6am-outside air temperature - 82 degrees, warming to 94 degrees by 10am. 84-degree water temperature with two-to-three-foot waves, a very mild north current and visibility of 40 feet. Conditions were ideal for this first day of mini season.
Vessel & Crew
Private vessel-Chiefy (29' Sea Vee with twin Mercury Verados)
Crew-Chuck Van Buskirk, John Strunk, Andy Rubin, Roger Soles and myself. This is the Chiefy crew for the past number of mini seasons.
Dive, Dive, Dive
We left the dock at 6:00am with the first divers in the water at 6:26am. The sunrise barely could be seen in a distance as our first dives were just north of the Deerfield Beach International Fishing pier in 35 feet of water. The exact location of our spots is a closely guarded secret, as its tradition for the Chiefy crew to get our limit. Our goal is 12 lobsters for each of the five divers for a total of 60 lobsters. There were many other divers on boats as well as some divers going out right off the beach. I avoid the very shallow depths (15 feet), which is about 500 feet off the beach, leaving that area for the beach divers. Most of the boat divers were in the 40-foot depth, which is the top of the second reef or about 1000 yards from the beach.
We didn't find the "honey hole" with a bunch of lobster, but each of our spots had a large amount of lobster. Our spots ranged from Deerfield Beach to Lauderdale-by-the-Sea, producing our limit by 11:30am. It was a great first day of spiny lobster mini season and the Chiefy crew looked forward to getting back out tomorrow for Day Two.