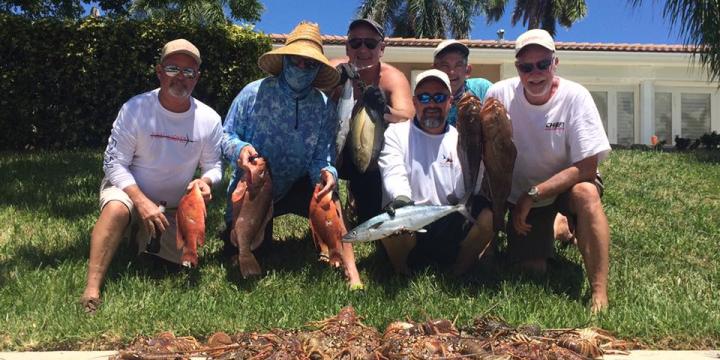 Day 2 of spiny lobster mini season is always a fun time for the Chiefy crew and usually not as busy or productive as Day 1. We departed on our normal 8am time and it's wasn't as crowded as the first day. We can still find lobster, just not as many. We typically also target fish on Day 2 as it seems the past Day 1 mini season activities stirs up the fish in the area.
Underwater Report
8am-outside air temperature - 82 degrees, warming to 93 degrees by 10am. 84-degree water temperature with one-to-two-foot waves, a very mild north current and visibility of 40 feet. Almost the exact conditions as Day 1.
Vessel & Crew
Private vessel-Chiefy (29' Sea Vee with twin Mercury Verados)
Crew-Chuck Van Buskirk, John Strunk, Roger Soles, Andy Ruben and myself. This is the same crew for Day 1 but we also had Sun-Sentinel Outdoor Writer Steve Waters join the Chiefy Crew on this second day of lobster mini season.
Dive, Dive, Dive
Our diving was concentrated around the Pompano Beach area as we ventured south out of the Hillsboro Inlet. We still stayed on the top of the second reef, concentrating on some other areas we didn't get to yesterday. Instead of holes with six or eight lobsters, today we had two or three in an area. But we were still productive with a total of 32 spiny lobster and an assortment of hogfish, mackerel, yellow jacks and red groupers.
I dove with Steve waters, who is the Outdoor Writer for the daily Sun-Sentinel newspaper and he had a great time. He wrote about his experience in his Outdoors column the next day, even featuring the Chiefy crew with several pictures.
Overall, the Chiefy crew had a memorable and successful mini season this year. We're now focused on the start of regular spiny lobster season, which starts August 6th. But summer diving is here, with calm conditions, warm sub-tropical waters and outstanding visibility.