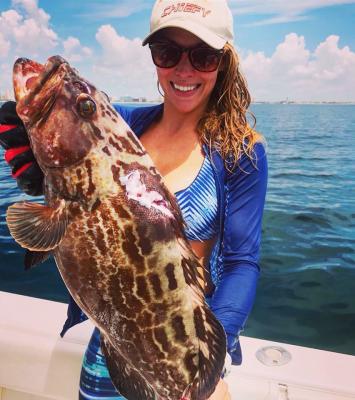 Underwater Report
8am-outside air temperature – 75 degrees, warming to 89 degrees by 10am. A gentle east wind, 77-degree water temperature with flat seas, a mild north current and visibility of 100 feet off shore and 40 feet on the reef.
Vessel & Crew
Private vessel-Chiefy (29' Sea Vee with twin 300 hp Mercury Verados)
Crew-Marshall Sklar, Megan Nichole Romine and myself.
Dive, Dive, Dive
We've been experiencing very calm winds creating "Lake Atlantic" type conditions. We decided to do a combo deal today; go off shore for some Bluewater hunting and then scuba dive the reefs later in the day.
The ocean was flat with an abundance of thick weed which usually holds mahi. Marshall and Megan jumped in the water off shore to do some Bluewater hunting on a large weed patch. They did some chumming to bring in fish, however, just a few small mahi showed up. They must be a minimum of 20 inches to the fork, so these fish got a chance to grow bigger in the future.
The water is a brilliant blue color off shore and we're only five miles off our coast. We spent some time in this area but decided to Scuba dive on the reefs inshore. Directly off the Pompano Beach fishing pier in 75 feet of water is a group of wrecks called the Qualman Tugs. This area has some scattered debris and wrecks but is known to have a lot of fish, and it's less then a mile off the pier.
Megan landed a nice Black Grouper and then Marshall found a large yellow Jack, two nice fish on one dive!
Even though the Bluewater hunting didn't produce any size fish, the combo deal of Scuba on the reefs and wrecks was a winner. There's nothing better then harvesting your own fresh fish knowing you put the time and effort into getting it in the ice box. When the conditions are good again, it's time for a combo deal in the Greater Fort Lauderdale area. As we say…Dive it All!!!