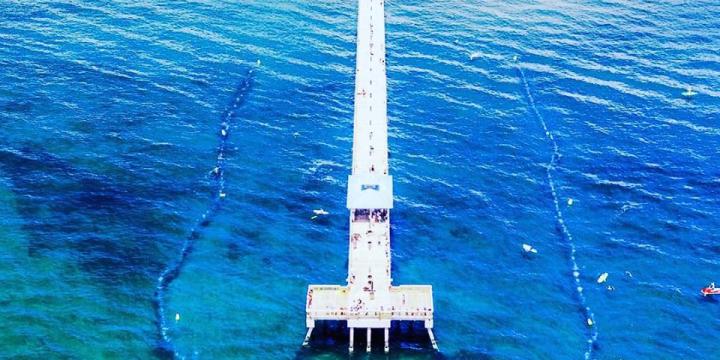 The annual pier clean-up at the Deerfield Beach International Fishing Pier has been sponsored and organized by Dixie Divers owner Arilton Pavan for 13 years. Last year, along with the clean-up, 241 divers attempted a Guinness World Record for the Longest Underwater Human Chain. (See June 17th, 2017 Chiefy blog) However, a group of divers were doing a similar attempt in Italy at the same time and captured the record at 308 divers.
At the time, Pavan vowed to break the record during this year's pier clean-up. Most of the divers were local but many traveled from parts of Florida including Orlando, Naples and the Keys. This new attempt also reached divers from around the United States including Colorado, New York, Chicago and California. Internationally, this event even attracted divers from as far away as Brazil, Argentina, Canada and Germany.
The pier clean-up was instrumental in removing over 1,000 pounds of lead and over 200 miles of fishing line. But today's focus was after the clean-up in getting 386 divers underwater holding on to a long rope configured in a semi-circle in 15-feet of water around the eastern end of the pier.
Organized by group leaders, they swam out to their respective locations and sank to the bottom to kneel while holding the rope. This was a well-orchestrated plan to get many divers into the water together. Every diver had a number to document their participation and verification for the World Record attempt.
Upon completion of the event, all the divers came out of the water and gathered around where a representative of Guinness provided a certification to Pavan proclaiming the new World Record. The cork on the champagne was popped and the large crowd of divers were sprayed giving the event a "wet" festive atmosphere.