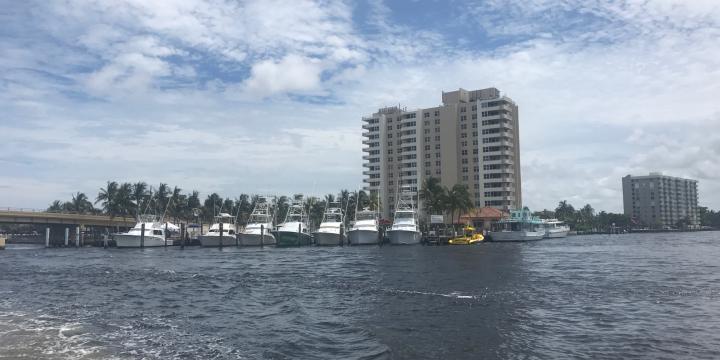 Underwater Report
8am-outside air temp-68 degrees, warmed to 86 by mid-day. The water temp has been a consistent 77 degrees for the past two months, however, today we had 79-degree water temp. Combined with light winds, a south current and 70' plus visibility, it made for an outstanding diving and boating day off Deerfield Beach. The start of above 80-degree summer water temp is almost here.
Vessel & Crew
Private vessel-Sand Diver (39' Yellowfin with triple 300hp Yamahas)
Crew-Tom Campbell, Ken Udell, Lisa Young, Jarod Blackburn, Andrew Rubin, and myself with Bruce Paul driving.
Dive, Dive, Dive
We left the dock in Lighthouse Point and stopped by the Lighthouse Marina for some fuel. We headed north, going out of the Hillsboro Inlet, and dove the third reef in the Deerfield Beach area. These reefs are west facing walls with the top at 50 feet and the bottom at 65 feet.
Having a driver made it possible to put the six divers in together in three groups of two. The third reef allows the divers to have different terrain but are relatively close together on these drift dives. Having the divers near each other allows the boat driver to keep them visible which improves their safety.
Andy and I dove the wall as usually that's where the most marine life congregates. Fish like structure and it paid off as Andy ended up getting a nice Black Grouper and Mutton Snapper.
Lisa and Jarod dove the rubble or false reef to the west of the wall and it produced a few nice hogfish. This area is a continuous reef about 20 feet wide, five feet high and has sand on both sides. Jarod is home on leave from the Army, stationed at Fort Bragg, North Carolina but originally from the Lighthouse Point area. He was glad to spend some time underwater in his hometown ocean waters.
Tom and Ken dove east of the wall in an area that has some small reef islands in 70 feet of water. These scattered islands are in depths from 70 feet to around 100 feet. They didn't produce any fish for them this day but some days they have a wide variety of marine life.
The Greater Fort Lauderdale area has a three-reef system and it's very similar in appearance, depth and structure. We were glad to dive today on the third reef area but still allow for some differences in our group dives. Drift diving allows the groups to cover a larger portion of the reef and the ability to drift with the current. The best part of today's dives were being able to bring home some fresh fish while also having a great dive.