Underwater Report
8am-outside air temperature – 79 degrees, warming to 87 degrees by 10am. An east wind, 79-degree water temperature with two-to-three-foot seas, a mild north current and visibility of 40 feet.
Vessel & Crew
Private vessel-Chiefy (29' Sea Vee with twin 300 hp Mercury Verados)
Crew-Chuck Van Buskirk, Andy Rubin, Wassim Samra, and myself.
Dive, Dive, Dive
The Chiefy crew was able to land some nice fish including a black grouper and some yellow jack along with a mangrove snapper. This was a mixed bag of fish, however, it allowed all of us to get a taste of every fish. We customarily share the days catch, taking turns as to who the "King of the Reef" is. Today, it was Wassim, as he landed a large black grouper.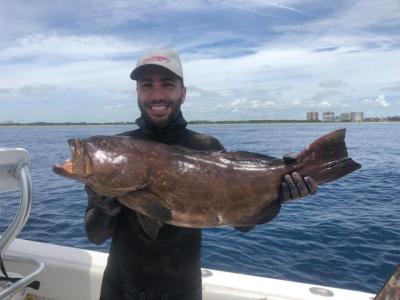 It was exciting for me as tonight my daughter and I had set up a visit to one of our favorite restaurants, The Rusty Hook Tavern in Pompano Beach. I looked forward to sharing a bottle of wine with Jennifer and having chef Ned Jaouhar delight our taste buds with his culinary creations. 
Eat, Eat, Eat
The Rusty Hook Tavern is located at the Sands Marina and has a breathtaking sunset view. Ned greeted us as I brought in a selection of the days catch. Its fun being surprised as our server brought out a selection of appetizers made from the yellow jack with the entrée being the black grouper.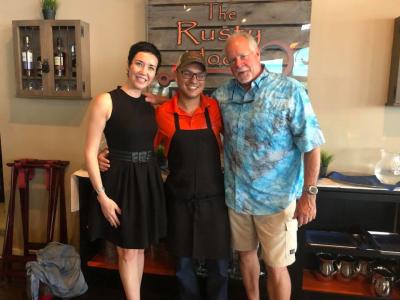 First an appetizer of Yellow Jack with pickled radish, avocado, citrus segments and aji passion fruit coulis.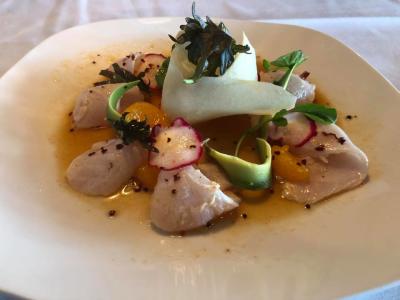 A second appetizer of Ceviche using the yellow jack with tomato cucumber, red onion, sweet potato, corn and leche de Tigre.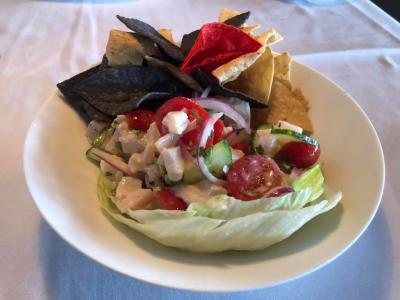 And the last appetizer of yellow jack poke style with seasoned rice, kimchi, avocado, tomato and wasabi soy sauce.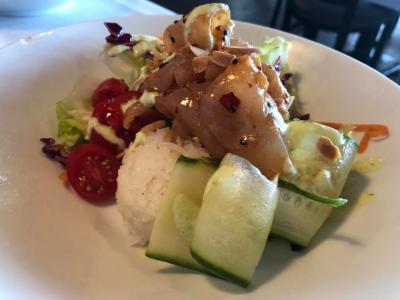 I think we could have stopped right there, however, we knew there was more to come. We split the entrée of black grouper with steamed broccoli crown, coconut rice and tropical mango salsa.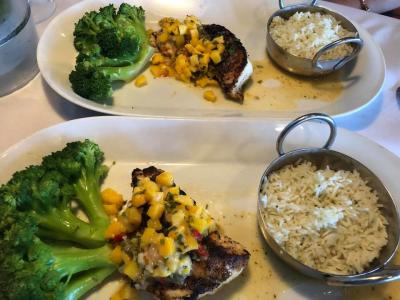 This truly completes the day as its goes from Ocean to Table, all within 12 hours. Much thanks to the Chiefy crew and Ned for making this a special day.