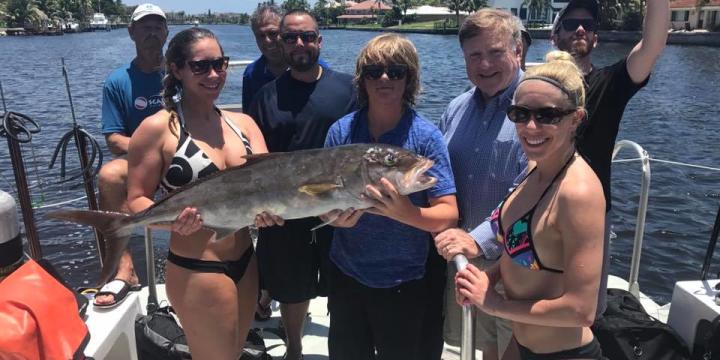 Underwater Report
Boarded the boat at 8:30am at Marina One in Deerfield Beach with an outside air temp of 76 degrees. The outside air warmed to 88 degrees by mid-morning with the water temp of 81 degrees. We encountered a moderate north current and visibility of 40 feet.
Vessel & Crew
Commercial Dive Charter-Lady Go Diver-46' Newton dive boat
Crew-Captain Bradley Williams with Divemaster Jeremy greeted the 10 divers as we ventured out of the Boca Inlet. I call this a mixed bag of divers today. Several divers were paired with specialty instructors to get their Advanced and side-mount certifications. One diver from New Jersey was focused on underwater photography and several of us were doing underwater hunting. There were even a few divers just sightseeing.
Dive, Dive, Dive
Joey Baleda and I dove together on a 15-foot west-facing wall called Abby Too reef off Hillsboro Beach. This is part of the third reef predominately found off the greater Fort Lauderdale area. The structure holds a lot of fish as the top of this wall is in 50 feet of water with the vertical drop to 65 feet in the sand. The next dive was south of the Hillsboro Inlet, but again on the third reef. We saw a few fish to shoot however today was one of those days where the fish, because they have fins, outswam us spearfisherman. One hunter did land a nice Amber Jack as he was put on a wreck called the Captain Dan off Pompano Beach.
Over all, the mixed boat of divers had a great day aboard the Lady Go Diver. The divers getting their certifications were successful. The underwater dive photographer got his photos. The underwater hunters could claim a nice fish and even the sightseeing divers had great sights to see. Remember, we can "Dive It All" in the Greater Fort Lauderdale area.