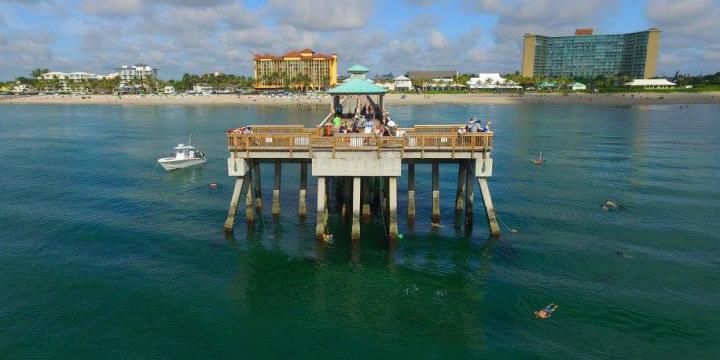 The current record of 182 divers for the Longest Underwater Human Chain was held in Koh Tao, Thailand. However, it was shattered Saturday June 17th in Deerfield Beach, Florida. Formed in a semi-circle, around the eastern end of the Deerfield Beach International Fishing Pier, 241 divers holding on to a rope, brought the record to the United States.
Organized by Dixie Divers of Deerfield Beach owner Arilton Pavan, this event was held in conjunction with the 9th annual pier clean-up. Many divers and dive shops in the area participated as well as groups from Orlando, Daytona and the Keys. There were divers from as far away as Indiana and New Jersey, making this an event with out of state participation.
The event really started on Friday evening, June 16th with a night dive under the pier. This was remarkable as divers explored the pier with their flashlights under nightfall, a sight few divers had ever witnessed before. Diving is usually prohibited around most pier locations, so getting the opportunity to do a night dive under the pier was very special.
The pier clean-up at 9am on Saturday had divers searching for an assortment of fishing line, lures and weights that had been snagged around the many support columns for the pier. Volunteers were on the pier periodically pulling up buckets filled with debris. This periodic cleaning of fishing line, hooks and debris really helps the underwater environment by preventing accidental snagging of marine life.
While the pier was shut down to fisherman, it allowed the Chiefy crew to get under the pier at the eastern end and perform routine maintenance on the underwater camera. http://www.deerfield-beach.com/1474/Beach-Cameras The marine life is abundant and can be viewed from the camera during the day.
The sight of hundreds of divers mixed in with schools of bait fish and Snook was inspiring as the Longest Underwater Human Chain started at 11am. This turned out to be a spectacular event showcasing the beauty of the ocean off Deerfield Beach.
Post event info: Unknown to the organizers of this event, a group in Italy where doing a similar attempt and were successful with 308 divers. The Deerfield Beach group will attempt a new Guinness World Record next year.