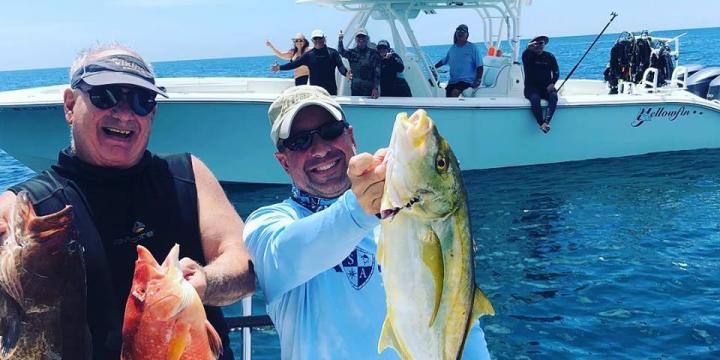 Underwater Report
8am-outside air temperature – 75 degrees, warming to 86 degrees by 10am. An east wind, 77-degree water temperature with one-to-two-foot seas, a mild north current and visibility of 40 feet.
Vessel & Crew
Private vessel-Chiefy (29' Sea Vee with twin 300 hp Mercury Verados)
Crew-Ken Udell, Chuck Van Buskirk, Andy Rubin, Fransisco Loffredi, Brooke Walden, and myself.
Dive, Dive, Dive
We had a mixed crew today but still ended up with lots of fish along with some great fun. Our catch included a black and red grouper, hogfish and yellow jack. All these fish are in season now, so it's all about "see the fish, shoot the fish."
Fransisco is an international spearfishing champion and freediver who lives in Brazil but visits our area often. He drove the boat while Ken and Chuck dove together, allowing Andy and I to dive together at the same time.
During our surface interval, we drove the boat while Fransisco did some freediving and hunting. We have found this has been a good combination of scuba and freediving buddies.
We even got Brooke in the water, as she's a marketing representative with an outdoor apparel company, and new to diving. With Fransisco guiding her, she was able to snorkel over some shallow reefs just north of the Deerfield Beach International Fishing pier.
 It emphasizes our enthusiasm for the theme of you can "Dive it All" in the Greater Fort Lauderdale area. Snorkeling, freediving, spearfishing and scuba diving are all easy to combine in our area.