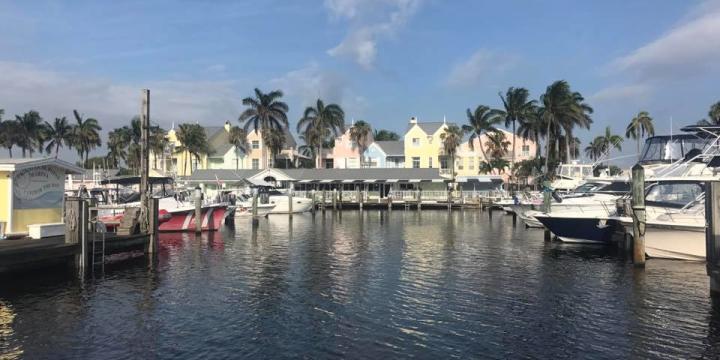 Underwater Report
8am-outside air temp-75 degrees, warmed to 88 by mid-day. We had 79-degree water temp. Combined with southwest winds, a south current and 60' plus visibility, the dives were centered around Fort Lauderdale. We left the dock at Lighthouse Point and proceeded south, out of the Hillsboro Inlet.
Vessel & Crew
Private vessel-Sand Diver (39' Yellowfin with triple 300hp Yamahas)
Crew-Tom Campbell, Andrew Rubin, Joey Baleda, Ken Udell, Jack Harari, Greg Berthume and myself with Ed Thompson driving.
Dive, Dive, Dive
This was fifth in a series of "dive and dine" for the Chiefy crew, with a little modification. The previous episodes were on a local dive charter, however, today we used a private boat. Additionally, while we did have our catch cooked at the Nauti Dawg restaurant at the Lighthouse Point Marina, we supplemented the days fresh catch with some previously caught lobster and fish. These lunches have been so successful with the Chiefy crew, we picked up a few more folks to dine with us.
After the dives, we proceeded to the dock at the Lighthouse Point Marina where we meet owner Christian Spieker. This is a family owned business located near the Hillsboro Inlet and has docks, fuel and a great restaurant. He introduced us to chef Dennis Franke who gladly took our catch and was off to the kitchen to prepare an assortment of appetizers and entrees. 
As the Chiefy crew settled in around the table, the appetizers started making their way from the kitchen. The hogfish and mutton snapper were fried and served with a variety of dipping sauces. Then came the lobster tails with tons of succulent butter and garlic. The grouper was done in a variety of ways including blackened and grilled. The sides included giant onion rings and fries with a hefty amount of parmesan cheese. The feast was spectacular with an outstanding dockside view. The Nauti Dawg restaurant is one of the Greater Fort Lauderdale hidden gems and the Chiefy crew was glad they could accommodate us.