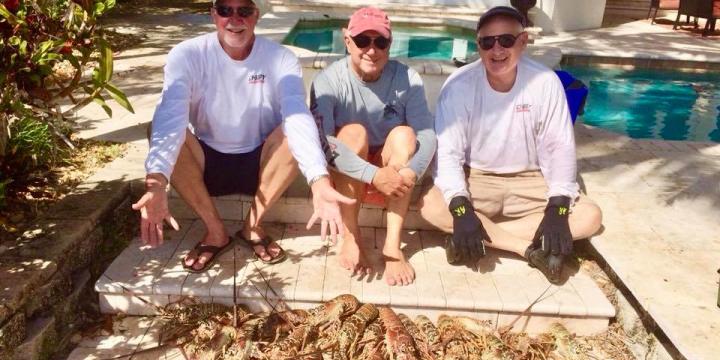 Underwater Report
8am-outside air temp-66 degrees, warmed to 86 by mid-day. The water temperature is 75 degrees and we had 40-foot of visibility with a gentle south current.
Vessel & Crew
Private vessel-Sand Diver (39' Yellowfin with triple 300hp Yamahas)
Crew-Tom Campbell, Stephen Norris, Andrew Rubin and myself. Bruce Paul drove the boat.
Dive, Dive, Dive
The spiny lobster season is in its last month but luckily this year there's still plenty of "bugs" to be found. We ventured out the Hillsboro Inlet to nice conditions once again on the ocean. Our area has had a record number of consecutive days reaching above 80-degree temperatures, and today was more of the same; sunshine and gentle breezes. I guess that's why the Greater Fort Lauderdale area is part of the Sunshine State, known for it's great weather and abundant warmth.
We initially dove the area on the second reef in 35-feet of water north of the Pompano Beach pier. Tom and Stephen dove together, allowing Andy and I to buddy up for this nice dive. Underwater conditions have been ideal with lots of abundant marine life and great visibility.
Our second dives were on the third reef off Lauderdale-by-the-Sea. This area has a west facing wall, dramatically elevating from the sand at 65-feet to the top of the wall at 50-feet. This structure has a lot of fish and I was able to land a nice Spanish Mackerel. 
Our day was complete with a limit of spiny lobster and a few fish. This made for an easy day with Bruce driving the boat for us divers, as he put us in the water together for two great dives. The forecast is more of the same, so we might as well enjoy these great conditions with lots of spiny lobster for one more month.