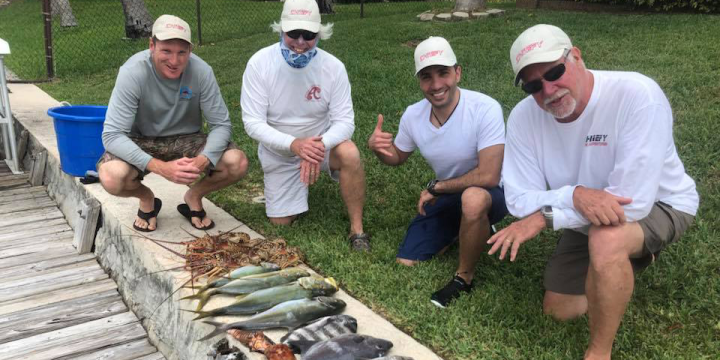 Underwater Report
8am-outside air temperature - 72 degrees, warming to 90 degrees by 10am. A southeast wind, 77-degree water temperature with one-foot seas, a mild north current and visibility of 40 feet.
Vessel & Crew
Private vessel-Chiefy (29' Sea Vee with twin 300 hp Mercury Verados)
Crew-Chuck Van Buskirk, Ben Fallon, Wassim Samra and myself, with Ben Paolina as our driver.
Dive, Dive, Dive
It's enjoyable to share in the sport of diving and underwater hunting with good buddies. I'm always looking for buddies to add to the Chiefy crew and as I've said in the past, they just need to bring good beer.
I met Wassim on a dive charter in Palm Beach, but he lives in Miami. He's an Oncologist for the University of Miami Sylvester Comprehensive Cancer Center, and has a schedule allowing for some weekday diving.  Today he was able to join the Chiefy crew as a willing participant in some underwater hunting.
Ben Fallon is a past Chiefy crew member, but he works on a tanker for 75 days at a time and available when he's home for 75 days. He does spend most of his onshore time with his family, but today he was able to join the dive.
Chuck is a charter Chiefy crew member and has been a great friend for over 40 years. He's a regular on the crew as I can count on him to be available during the week with his retirement schedule.
Ben or "Pots 'n Pans Benny" as we call him, is a snowbird, located in Pompano Beach during the winter and in New York during the summer months. He's a licensed boat Captain but got his nickname from his culinary skills in the galley. While his cooking won't be used on today's trip, his ability to run my boat is an important component of being a Chiefy crew member. Having him run the boat allows both sets of divers to dive at the same time, making it a quicker day.
Today's dives were on the third reef along the top in 50-feet of water, so we ended up with a mixed bag of fish and lobster. We're getting close to the end of spiny lobster season on March 31st, but today proved the conditions were great for diving while getting the Chiefy crew some fresh seafood.
Adding crew members is always a welcome treat as there's also nothing like sharing great stories over good beer after a day of diving in the Greater Fort Lauderdale area.