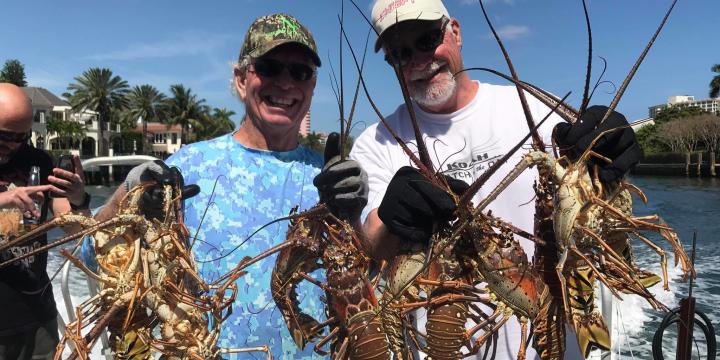 Our routine on Thursdays is to dive on the Lady Go Diver. A group of us I call the Chiefy crew, along with owner Arilton Pavan of Dixie Divers, have made this a regular underwater hunting day for many years. The Lady Go Diver picks us up at the southwest corner of Marina One in Deerfield Beach, which is conveniently adjacent to Duffy's Sports Bar and Grill. After our dive, we unload our dive gear and walk into Duffy's where Melissa, the bartender, serves us some adult beverages and delicious meals. It's a great way to end the dive day and has become part of the Thursday tradition.  
However, Kamal wanted to change things up this Thursday, so we came up with another option. Each of us had caught a few spiny lobster and Kamal had even speared a nice sized hogfish. As we unloaded our dive gear, I called my friend Kenny Nassar, owner of Barracuda Seafood Bar & Grill. Located at 1965 NE 2 Street, Deerfield Beach, the restaurant specializes in Brazilian flavors. I wanted to see if he would have his chef cook our catch…and he was up for the challenge.
Seven of us brought our catch to the restaurant which had just a few hours ago, been in the ocean a few thousand yards off Deerfield Beach. Chef Fernando Ferreira didn't disappoint us. As an appetizer, chef Ferreira deep fried the whole hogfish creating a beautiful presentation with outstanding taste. The entree consisted of lobster in pasta served with additional grilled lobster on the side.
This gave new meaning to the term "ocean to table," as we completed the circle of diving and dining in Deerfield Beach. The Chiefy crew looks forward to our Thursday tradition of diving on the Lady Go Diver, even if we change it up once-in-awhile. Having our catch cooked by Chef Ferreira of Barracuda Seafood Bar & Grill today highlighted why we live in the Greater Fort Lauderdale area. Awesome diving and eating our fresh catch at a local restaurant put an exclamation mark on a great day!