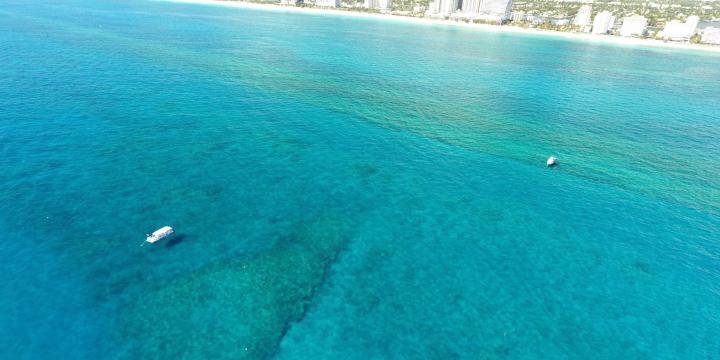 Underwater Report
8am-outside air temp- 68 degrees, warming to 81 degrees by noon. A mild west wind, 75-degree water temp with the seas flat and a very mild north current. Visibility was incredible for the last two days. I've included a picture from Bill Cole, owner of Sea Experience, a dive charter at Bahia Mar in Fort Lauderdale. This picture was taken from a drone showing Sea Experience II on the Caves and the Sea Experience on the Twin Ledges. These reefs are located off Fort Lauderdale but the picture shows the clarity of the water and the proximity of these reefs to the white, sandy beaches.
Vessel & Crew
Private vessel-Chiefy (29' Sea Vee with twin Mercury Verados)
Crew-Lance VanShaik, Tom Campbell, Chuck VanBuskirk and myself
Dive, Dive, Dive
We headed north on this warm and sunny day toward the Boca Inlet from my dock at Deerfield Beach. The day was spectacular as we spent our dives off Deerfield and Hillsboro Beach. The crystal-clear water with top-to-bottom visibility made this a very special day.
Chuck and I dove Separated Rocks off Deerfield Beach, a series of islands 100 foot around, located in 35 feet of water. With a gentle north current and awesome visibility, I cruised along the east side and Chuck was on the west side. We fist-bumped the recently placed 40-year-old Barefoot Mailman statue but continued, covering the entire reef. We grabbed a few spiny lobsters but the clarity of the water is what really made this a great dive.
Lance and Tom dove an area on top of the third reef off Hillsboro Beach. This area is 50' on the top of the reef and a wall that drops down to around 65'. Their north drift allowed them to end up at the Ancient Mariner wreck artificial reef, lying west of the main reef.
When it was our turn, Chuck and I continued with a north drift but on the east side of the third reef, eventually taking us to Fricks reef, off Deerfield Beach. Lance and Tom did their second dive in an area between the second and third reef. This area has some patch reef and because of the sand, has the possibility of some hogfish and mutton snapper.
The visibility of the water made this a special day diving off Deerfield and Hillsboro Beach. Being able to grab a few spiny lobsters and get a few hogfish was just icing on the cake!