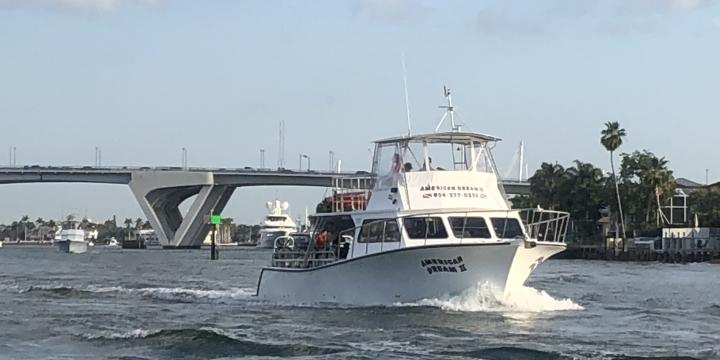 Underwater Report
8am-outside air temp-62 degrees, warmed to 80 degrees, mainly sunny with scattered clouds and a mild easterly wind. For the entire day, it remained sunny and pleasant.  
75-degree water temp with seas of one-two feet and a gentle south current with the 50-foot visibility and excellent conditions.
Vessel & Crew
Private vessel-Getaway (33' Hydro-Sport with triple 250hp Yamahas)
Crew-Jack, John and myself-all members of the Chiefy Crew on Jacks boat.
Dive, Dive, Dive
Jack lives in Fort Lauderdale, with ocean access via the Port Everglades inlet. It's nice to see over a half-dozen cruise ships docked at the port, taking on passengers, getting ready to disembark at the end of the day. This is also a main shipping channel with freighters and tankers picking up and delivering their products from around the world.
We headed south after we left the inlet and did three dives off Hollywood Beach. With only three divers today, each of us took a turn driving the boat as two of us dove together. John and I dove together first, then Jack and I and then it was my turn to drive the boat on Jack and John's dive. This allows all of us two dives with some surface interval time in between.
The reefs in the area are more scattered with large boulders in the sand. They're easy to find as they are primarily in a north-south pattern, with the ability to go east-west to find more reef. These are shallow areas located in 40 feet of water, but they're not as continuous as you find north of the inlet. Although there is still a three-reef system, today we were primarily on the second reef.
The lobster we found were large, including the biggest one I caught all year. They weren't clustered together like they've been for the past few months, but we were still able to grab a dozen "bugs." 
This was a great way to spend a Sunday, with a couple of good dive buddies. Coming back in the inlet, there were lots of boats and folks out for a Sunday boat drive. All great sights to see in Sunny Fort Lauderdale, on a beautiful Sunday.