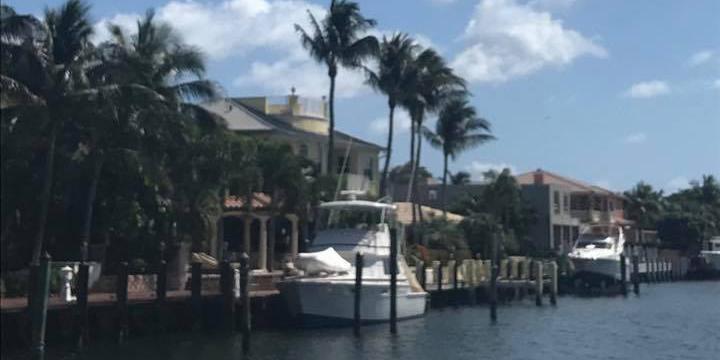 Underwater Report
8am-outside air temp-77 degrees, warmed to 84 degrees. 77-degree water temp with two-three foot waves with a gentle north current and typical 30' visibility.
Vessel & Crew
Private vessel-Sand Diver (39' Yellowfin with triple 300hp Yamahas)
Crew-Tom, Chuck, Peter, Bruce and myself-all members of the South Florida Spearfishing Club. Bruce was our designated driver which allowed us to have both pair of divers in the water at the same time.
Dive, Dive, Dive
Our goal today was to get a few more spiny lobsters, as there's only a few weeks left to the season, which closes on March 31. We ventured out the Hillsboro Inlet and proceeded to head south to an area between the Pompano and Lauderdale-by-Sea fishing piers. This was the eastern edge of the second reef, which is 45' on the top but slopes down to 65' along the edge. Chuck and I did this first dive together as Peter and Tom did a parallel dive on top of the second reef. So many beautiful things to see including a large loggerhead turtle.
Our second dive was directly off the Lauderdale-by-the-Sea pier on the western edge of the third reef. Chuck and I did the "false reef," which is west of the 15' wall. This area has an eastern edge about five-foot-tall and has a lot of ledges and overhangs. The lobsters were hiding under these ledges, so it really helped having a flashlight and taking our time to check this reef. Peter and Tom ended up parallel to us but west in 75' of water. This area has some scattered reef but sometimes has lobster hiding in this little reef structures.
We didn't get our limit of spiny lobster today but had a few nice dives. Chuck and I both speared a hogfish so it added to the plentiful catch. As we were docking Tom's boat, the Goodyear blimp passed over us as to welcome us back from a great day of diving. Seeing the blimp just adds to the awesome day of spending time with great dive buddies and catching some spiny lobster in the Greater Fort Lauderdale area