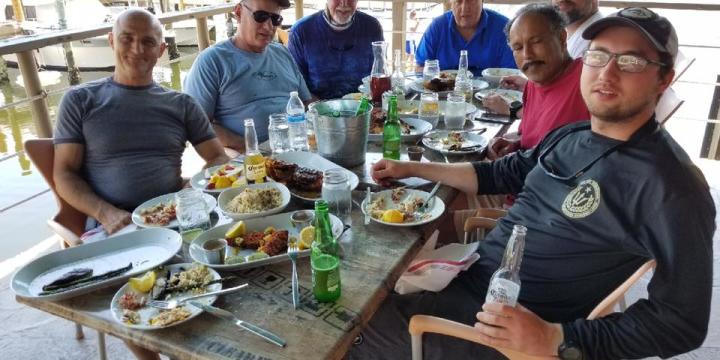 The fourth in the series of Dive & Dine for the Chiefy crew ranked at the top of our list so far. Crew members Andrew Rubin, John Strunk, Kamal Peters, Joey Baleda, Tom Campbell, Carmine Dilorenzo and myself were treated like royalty at the Pompano Dive Center. We were checked in by manager Tony Ernst and directed to the Sea Dog Diver with Captain Will Mainord and Dive Master Jimmy Gadomski. This 36' Newton dive boat was all ours as we left the dock at 8:30am for the short ride to the Hillsboro Inlet.
Kamal and Joey jumped in on a deep wreck of 125' called the Rodeo 25 with Andy and John opting for the Qualman Tugs in 80' of water. That left Tom, Carmine and myself to drift along the Pompano 3rd Reef Ridge located in 50'. These are all directly off the Pompano Beach Fishing Pier and allowed us to spear fish at different depths and various reef structures.
Our second dive was north of the Hillsboro Inlet and the south current allowed us to drift at various depths on a natural reef called Abby Two. Speared were a variety of fish including Hogfish, Yellow Jack and Mutton Snapper.
But the best was yet to come…
After returning to the dock and fileting our fish, we were greeted by chef/owner Ned Jaouhar of The Rusty Hook Tavern. Located on the second floor of the Sands Marina, the Intracoastal view was superb as the Chiefy crew's taste buds were tantalized with a variety of appetizers and entrées prepared from our catch.
Serving the crew was co-owner Kareem Lakchira who started with Yellow Jack Tiradito with pickled cucumber, sesame seeds and passion fruit chili sauce. The ceviche with onions, tomatoes, and cucumbers from the Yellow Jack made for a delightful treat. Next came the Hogfish Carpaccio with pickled ginger, yuzu soy and wasabi. Then the fried mixed fish with Spicy Cheetos served with a calypso sauce. The whole fried hogfish with sweet chili glaze was a hit, and the blackened Mutton Snapper with a mango salsa was devoured.
The key to this dining experience was chef/owner Ned Jaouhar, who is also a spearfisherman and knows the local fish and better yet, how to prepare them. The variety of fish and the way they were served made this Dive & Dine a memorable experience for the Chiefy crew.