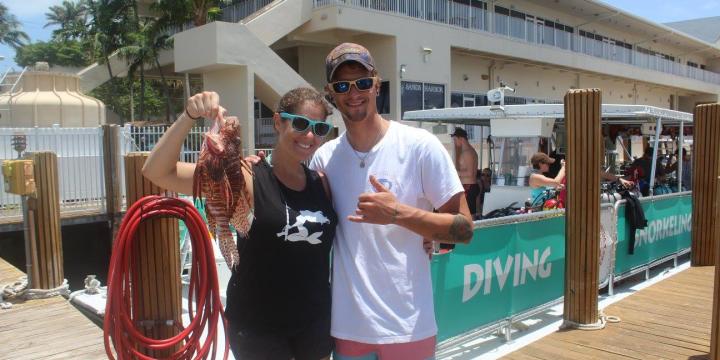 As divers spend time underwater this past decade, they've noticed an increase in lionfish inhabiting our reefs. This invasive species is known for its tremendous appetite and ability to reproduce unchecked as there is no known predator for this attractive looking fish.
The Florida Wildlife Commission (myfwc.com) sponsors an annual Lionfish Removal Day throughout the state to encourage the harvesting of lionfish. This year, May 20th had been dedicated to the "Eat 'em to Beat 'em" campaign. The best part of the lionfish is their taste; a pure white, flaky filet that has a sweet flavor.
Force E Dive Centers (force-e.com), along with South Florida Dive Headquarters (southfloridadiving.com), located at the Sands Marina, both Pompano Beach based businesses, organized this local Lionfish Removal Day. Divers boarded the Aqua View dive boat and headed out to the ocean for a fun day of diving and adventure. The divers returned with 72-harvested lionfish and Vone Research (voneresearch.org) measured and fileted them, making a delicious ceviche out of the 20 pounds of harvested fish.
Then it was off to 26 Degree Brewery (26degree.com) in Pompano Beach for some live music, raffle, prizes and fun! This was a fundraiser for Vone Research and the large crowd enjoyed themselves along with some thirst-quenching local craft beers.
This was a great day of diving in the Pompano Beach area, removing some good tasting lionfish and finishing the day at a great local brewery.