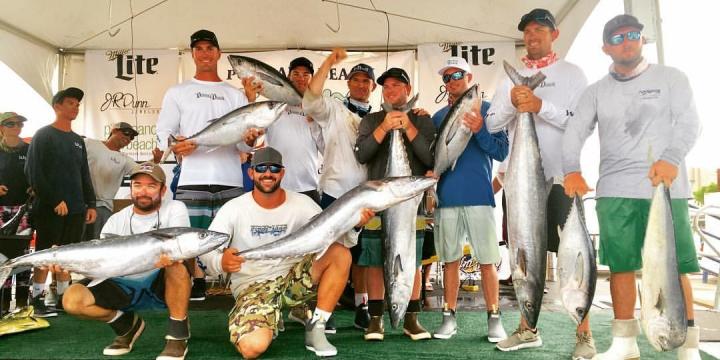 The team of Frick & Frack, with Captain Jimmy David, won the tournament for a record setting fourth year of the 52nd Pompano Beach Fishing Rodeo. The conditions were bumpy for the 21 boats because of a strong easterly breeze, but the fishing was hot!
The fishing rodeo is a not-for-profit corporation, so 100% of the 2017 entry fees are paid back in prize money and additional sponsorship money is given back to supporting Shipwreck Park and the Pompano Beach Firefighters Benevolent Association. There were festivities throughout the weekend centered around two days of fishing held at Alsdorf Park at the 14th Street Boat Ramp in Pompano Beach.
The fishing was nonstop and the crowd cheered as the various teams weighed their fish to see who would take top team for one of the longest running tournaments in the area. It seemed the catch of the tournament were King Mackerel and Black Fin Tuna.
The heaviest fish was a King Mackerel at 44 pounds caught by Jake Gates aboard Double Down. The top boat of Frick & Frack won over $18,000 in prize money with Top Male Angler being Captain Art Sapp with 282.8 pounds of fish and Top Lady Angler was Debbie David with 203.3 pounds of fish. The Small Fry division was won by James Demarco at 95.8 pounds and the first place Junior Angler was Laurel David at 105.4 pounds of fish.
Two days of fishing producing over 4,000 pounds of fish caught off the Greater Fort Lauderdale area with five days of activities adds to why the State of Florida is called the Fishing Capital of the World.