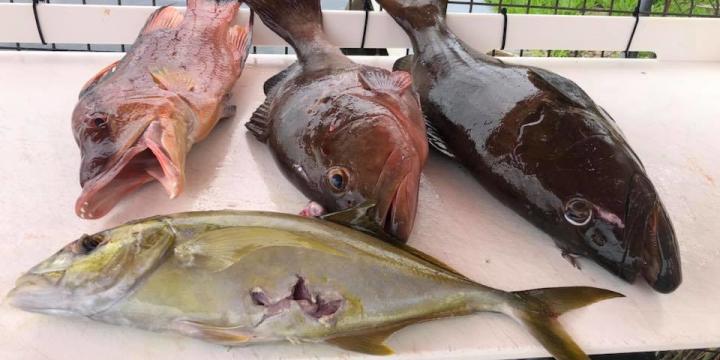 Underwater Report
8am-outside air temp - 79 degrees, warmed to 84 by mid-day. We had 77-degree water temperature and a 10-mph east-southeast wind with a north current and 30' visibility. Our dives were all off Lauderdale-by-the-Sea.
Vessel & Crew
Private vessel-Sand Diver (39' Yellowfin with triple 300hp Yamahas)
Crew-Tom Campbell, Andrew Rubin, Ken Udell, and myself with Bruce Paul driving.
Dive, Dive, Dive
Grouper season has been closed to all fisherman, including spearfisherman, since January 1st and re-opened on May 1st. This closed season was necessary, as grouper is a very popular fish to eat and needed a chance to replenish. The minimum size is 24-inches for a black or gag grouper and 20-inches for a red grouper. Additionally, there is a maximum total limit of three grouper per person with only one of them being a black grouper. The closed four-month season from January 1st to April 30th was during the spawning time to allow them the opportunity to repopulate. These restrictions have greatly assisted in getting grouper back on the menu.
I buddied up with Andy today and I'm glad to see the master in action. Andy is a charter Chiefy crew member and even has his picture with me on my spearfishing book Catching the Spear-it! His sense of awareness combined with his accuracy and quick shot release makes him a very successful underwater hunter. Today he was able to land both a red and black grouper on our dives together. Tom and Ken did land a nice hogfish and yellow jack. It's also nice to have hogfish back on the menu as this year there was a six-month closure and both an increase in size and bag limit.
Overall, today was a nice variety of fish landed in the Greater Fort Lauderdale area. But the best part of today was watching Andy in action.