Underwater Report
8am-outside air temp - 75 degrees, warmed to 81 by mid-day. We had 77-degree water temp. Combined with southeast winds, a north current and 30-feet of visibility, the dives were centered around Fort Lauderdale. We left the dock in Lighthouse Point and proceeded south, out of the Hillsboro Inlet.
Vessel & Crew
Private vessel-Sand Diver (39' Yellowfin with triple 300hp Yamahas)
Crew-Tom Campbell, Chuck Van Buskirk, Paul Struzziero, Kyle Good, Jack Harari, Greg Berthume and myself.
Dive, Dive, Dive
Today was a quick dive day as we were preparing to get a visit from sub-tropical storm Alberto this weekend. The storms track was in the Gulf of Mexico, however, we are expecting to experience some rain and windy weather the next few days. As we headed out, we knew it was going to be a short day but that worked into our plans to have our catch cooked for lunch at the Nauti Dawg Restaurant, located at the Lighthouse Point Marina. Hopefully, we were able to get some fish!
We were successful in landing three nice sized yellow jack and brought them filleted to the dock at the restaurant. I had already prepared owner Christian Spieker and he turned us over to managers Laura and Scott.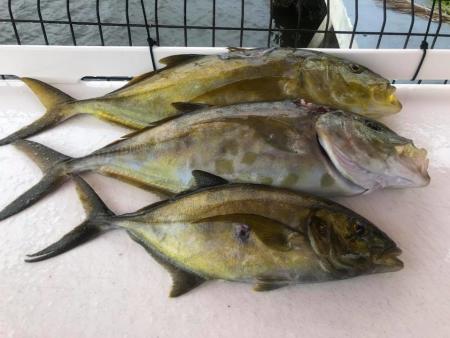 Yellow Jack isn't a fish normally brought to the restaurant, but we've found it to be very good quality in both texture and taste. Occasionally, traditional hook and line fisherman will land one, however, as spearfisherman, we've been harvesting them regularly. They usually travel in schools of similar sizes and move rather rapidly near the reef underwater. An interesting aspect of them is when you get one, the others seem to stay around and even circle the one already speared. Hopefully your spear buddy is paying attention, as they can land a few more of the school.
My only instruction was to cook the fish in a variety of different ways…and the chef didn't disappoint us. He teased our appetite with the fish sliced and sashimi style as an appetizer. But the entree feature was the fish done three different ways with three sides as part of the family style presentation.
Fried over a bed of salad with ranch dressing, grilled over sautéed green beans and my favorite, blackened over rice with a creole sauce. Of course, there was a bed of rice with black beans as a side for everyone and we finished off the meal with black chocolate cake drizzled with a sweet chocolate syrup.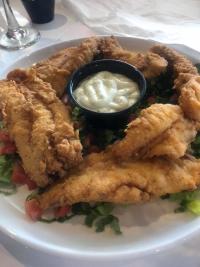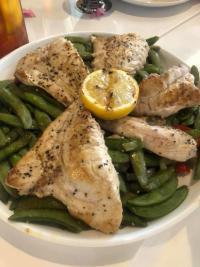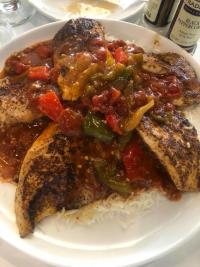 We were stuffed to the gills with a smile on our faces. You're not going to get any fresher fish then landing it yourself and better tasting then at the Nauti Dawg restaurant. All found diving at the Greater Fort Lauderdale area.