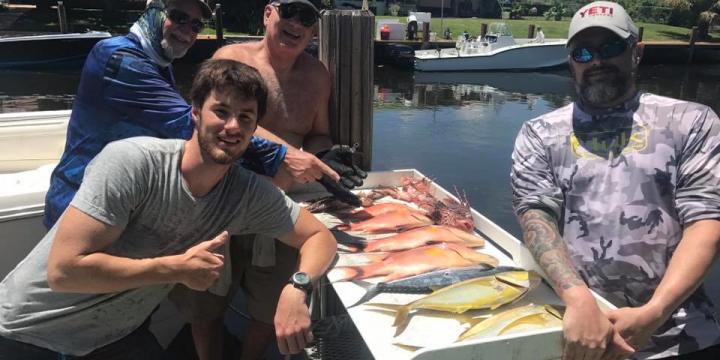 Underwater Report
8am-outside air temperature - 68 degrees, warming to 84 degrees by 10am. With low humidity and a mild east wind, this was a great diving and boating day in South Florida. 77-degree water temperature with 1-2 foot waves and a very mild north current with visibility of 40 feet.
Vessel & Crew
Private vessel-Chiefy (29' Sea Vee with 300 hp twin Mercury Verados)
Crew-Andrew Rubin, John Strunk, Cameron Dale Conner and myself with Bruce Paul driving.
Dive, Dive, Dive
We headed south toward the Hillsboro Inlet and fueled up at the Lighthouse Point Marina. Our first set of dives were off Anglers Pier in Lauderdale-by-the-Sea as Cameron and I dove in the 85' range. This is scattered reef consisting of islands with easy navigation north and south. Andy and John dropped on the Qualman Tugs, a collection of artificial reef structures between the third reef.
Our next dives were north of the inlet off the Deerfield Beach Fishing pier on a reef called Frick's. This is on the third reef with a west facing wall.
What made these dives different was Cameron spearing lionfish. This evasive species has been covering our reefs for the past decade and the State of Florida encourages us to harvest them. A fishing license isn't required to harvest them and even technical divers can take them using re-breathers.
Cameron was very skilled at using a three-pronged pole spear and a collection container to secure them. Lionfish have spines that are venomous and can make a diver cry if you get stung. But the payoff is a great one --- the good news is the filets are very tasty: a pure white fish that is flaky, with a sweet flavor.  Along with our harvest of Hogfish, Spanish mackerel, and Yellow Jack, today we added lionfish to the menu.  
It's always a great day to bring home fresh fish from a day of diving in the Greater Fort Lauderdale area and adding lionfish to the menu made it even better.