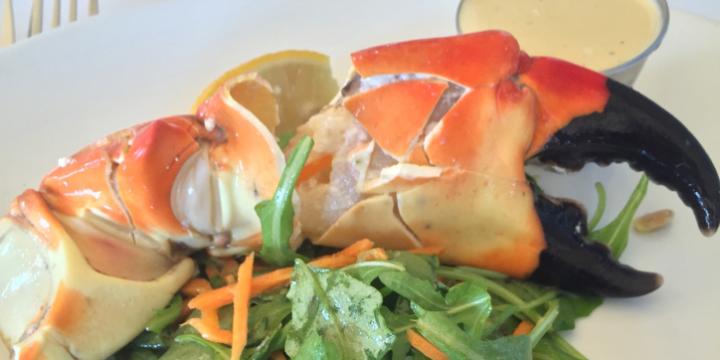 I want to state for the record that I hate the word "shimmy."
Unfortunately for my wordsmithing-self, it always starts as a "shimmy." A little swing to my hips, and a bip-bop in my shoulders. During a really good meal, I can't deny that clapping has been known to occur.
It took me years to realize that I have a Happy Food Dance. If you can believe it, I didn't know I was dancing when I found food I loved. Maybe I'm not as in touch with my own love for food as I think I am.
I also don't consider myself a foodie, so I was a bit surprised when I was actually selected for a FAM tour in Fort Lauderdale before TBEX last month. Then I realized that if you ask me for suggestions for any destination ever (that I've been to), 90% of my recommendations are for restaurants and bars.
I may not be a professional connoisseur, have a developed palate, or understand the technical and artistic aspects of food, but I do pay attention to it. Fort Lauderdale wanted me to pay attention, and so I would.
*FAM Tours, for you non-travel blogger form, are "familiarization tours," where destinations bring groups of press/bloggers/media folk together to give them a crash-course about the destination. Here's what I learned.
Fort Lauderdale is by the Sea.
Hey, not a surprise, right? On the southern U.S. coast of the Atlantic, Fort Lauderdale has a plethora of options for food that come from the sea. Many of them were some of the freshest seafood dishes I've had in a long time, and many were adventurous and interesting:
Fort Lauderdale knows Luxury Tourism.
As one of the top three cruise ports in the world, Fort Lauderdale and Port Everglades see a lot of tourists who come to town looking for indulgent, world-class food. I found this reflected most in the desserts we tried; not normally a dessert person, my group of fellow bloggers and I quickly learned to save room and share plates, just to get a taste of the amazing luxuries on each menu:
Fort Lauderdale is in the South.
One of my favorite ways to experience a city is not in the innovative, eclectic experiments of chefs; it's in the classics. I love to dive into hearty brunches, messy family recipes, and the stereotypical dishes of an area:
Fort Lauderdale is on the Cusp of Hip.
Second to the classic dishes I mentioned above, I love to find the places where people are trying something "new" or "different." I don't mean the kind of dish or drink you can't find anywhere else in the world, but the kinds of things that are new and exciting; the places where I'd want to hang out if I lived there. I was lucky to find several such places:
Given that I was only in Fort Lauderdale for a week, it's hard to believe how much I ate (actually, it's not — all I have to do is step on a scale!). I savored the sea and the South, noshed on the Old School luxury dishes and got a flavor for the up-and-coming establishments. In short, I sampled it all.
Fort Lauderdale has a diverse dining scene that is going to develop a lot in the next few years: as more Millennial travelers become families and start looking into the cruise industry as part of their yearly travel investment, I think smart chefs and restaurateurs will respond with increasingly innovative restaurants and bars. The great classics will endure, and new, irreverent ones — such as Fork & Balls and YOLO — will gain tenure, and join their ranks.
Instead of taking a taxi straight from the airport to the cruise port, add a day or two to your itinerary to enjoy the different foods you can find. I think, like me, you'll be pleasantly surprised.
—
Many thanks to Fort Lauderdale for hosting me during the first few days of my trip, and treating me to many of the restaurants highlighted in this guide.

To learn more about Valerie & Valise, click here.