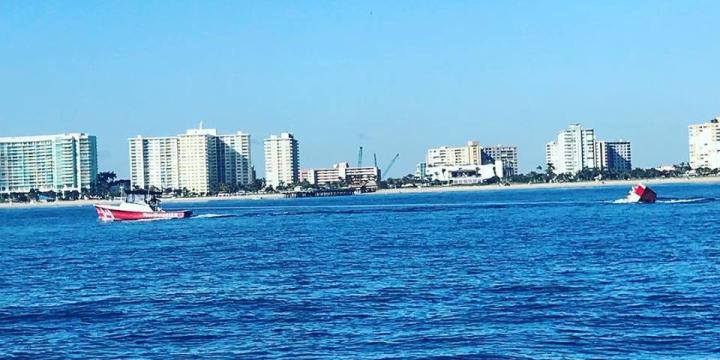 Underwater Report
8am-outside air temp-66 degrees, warmed to 82 degrees, with a breeze out of the east. Water Temperature was 78 and visibility was 10 feet with a south current.
Vessel & Crew
Private vessel-Sand Diver (39' Yellowfin with triple 300hp Yamahas)
Crew-Tom Campbell, Chuck Van Buskirk, Marshall Sklar, Carmine Dilorenzo, Stephen Norris, Frank Schmidt and myself. (all members of the South Florida Spearfishing Club. www.spearfishing.org)
Dive, Dive, Dive
What do you do when it's the day before Thanksgiving and the weather is great? Of course, you get together with some members of the South Florida Spearfishing Club and dive. What better way to give thanks for the perfect underwater hunting we have in the greater Fort Lauderdale area.
The spearfishing Club meets on the third Tuesday of every month at 6:30pm at Galuppi's galuppis.com in Pompano Beach and today was a chance to enjoy underwater hunting together.
The first dives were north of the Pompano Beach pier on the second reef, but with a south current, everyone finished south of the pier. The second reef is wide in this area and it's considered a shallow dive of 30-40 feet.
The next dives were out a little deeper on the third reef, which is an area with west facing walls with a maximum depth of 65-feet on the west side. The top of the third reef is 50-feet, making the structure great for spearfishing.
The lobsters were abundant today and we were also able to land a mixture of yellow jack and mangrove snapper. It was nice to give thanks for great friends who are also members of the spearfishing club and to be able to "harvest" directly from the ocean. With the thought of family, food and football ready for tomorrow, what better way to celebrate the Thanksgiving holiday.