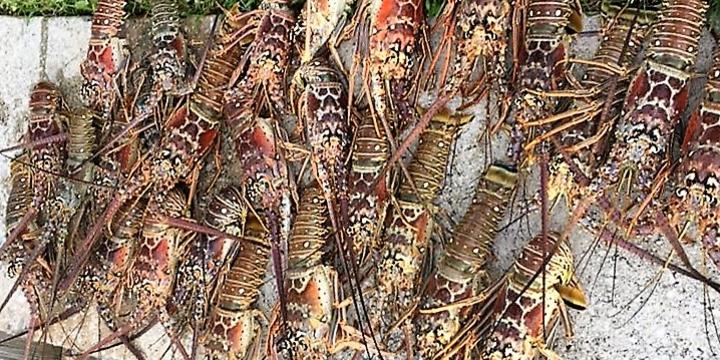 Underwater Report
8am-outside air temperature - 71 degrees, warming to 85 degrees by 10am. 80-degree water temperature with one-foot waves, a mild south current with visibility of 40 feet.
Vessel & Crew
Private vessel-Chiefy (29' Sea Vee with twin 300 hp Mercury Verados)
Crew- Chuck Van Buskirk, Ben Fallon, Joey Baleda and myself.
Dive, Dive, Dive
When I put the crew together for today I knew the youngsters would want a rematch. We did our first match on July 11th, but that was strictly spearfishing, as it wasn't lobster season. The Old Guys came through back then with some nice fish, but today Chuck and I (Old Guys) were ready for a rematch from Joey and Ben (Youngsters). 
The objective was to first get our limit of spiny lobster and then the match would be decided by which group landed the most or biggest fish. The lobstering has been very good and it was easy work on the shallow reefs to get our respective limit. The 35-foot area has been loaded with a lot of spiny lobster, the only trick was there's an abundant number of short ones. The good news is you could tell by just looking at them they were too short. 
Our location off Deerfield Beach is perfect because the shallow reef is located a very short distance off the end of the International Fishing Pier. We did get a nice look at the surface of a school of dolphin cruising south. After loading up on spiny lobster, it was just a short distance to some great artificial wrecks for spearfishing. The structure of these wrecks is perfect for getting a few nice fish, making the challenge even better to see who would win this round.
The Old Guys came through again, getting two fish; a yellow jack and a nice mangrove snapper. While the youngsters had some great fish stories, such as the big one who got away, we have found "you can't eat fish stories."