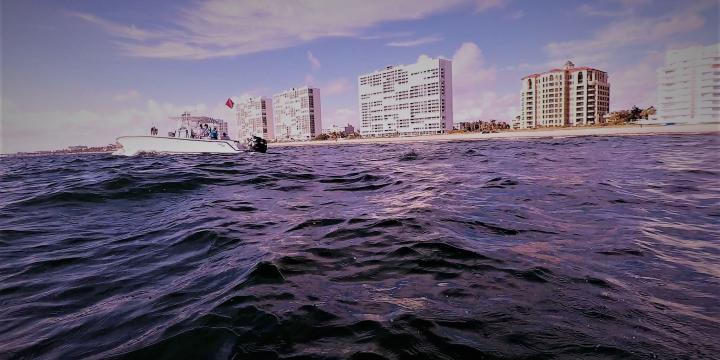 Underwater Report
8am-outside air temperature - 75 degrees, warming to 87 degrees by 10am. 80-degree water temperature with one-foot waves, a mild south current with visibility of 40 feet.
Vessel & Crew
Private vessel-Chiefy (29' Sea Vee with twin 300 hp Mercury Verados)
Crew- Chuck Van Buskirk, Andrew Rubin, John Strunk, Ken Udell and myself.
Dive, Dive, Dive
Today was one of those dive days you pinch yourself just to make sure it's real. Having 80-degree water temperature in November started the day along with a great crew of @Chiefycrew members. Ending the day with a limit of lobster and enjoying the sights of a gorgeous day on the water made for great fun.
John jumped in on the little hole in ten-feet of water just north of the pier to see if it was still holding any lobster. He found only a few legal ones and then it was on to the area south of the Deerfield Beach International Fishing Pier called Separated Rocks. We've been doing well there for spiny lobster since Hurricane Irma and today was more of the same. John, Ken and Chuck dove this reef and grabbed a bunch. Andy and I continued south onto a reef called Hillsboro Ledge, at a depth of 30 feet. This is approximately 500 yards, directly off Hillsboro Beach.
Most of the spiny lobster we saw were short, however, mixed in with each group were a few keepers. It seemed like we never stopped catching lobsters as almost every 50 feet were another grouping. Very good for us to get our limit of spiny lobsters of six-per-person-per-day but bad if you were a legal sized lobster.
We finished the day easily with our limit and just enjoyed how spectacular of a day we were able to be out on the ocean. It really doesn't get much better than this and our day was filled with fun and lots of lobster.  Greater Fort Lauderdale at it's best!