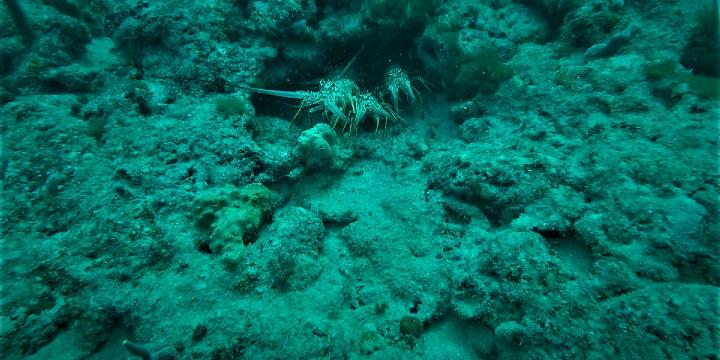 Underwater Report
8am-outside air temperature - 66 degrees, warming to 80 degrees by 10am.
79-degree water temperature with one-foot waves from a variable west wind along with a mild north current and visibility of 40 feet.
Vessel & Crew
Private vessel-Chiefy (29' Sea Vee with twin 300 hp Mercury Verados)
Crew- Chuck Van Buskirk, Andrew Rubin, John Strunk, and myself.
Dive, Dive, Dive
The Black Friday Special for the Chiefy Crew were the great diving conditions. The "Blockbuster Deals" today were an abundance of lobster under the ocean for everyone.
On Thanksgiving yesterday, there was another cool front with west winds, flattening the ocean close to shore where our diving is done. As we ventured out of the inlet, the calm conditions were ideal for great diving and even the pelicans were floating on top of the water.
Our first dives were in 35-feet of water in an area called Separated Rocks directly off the Deerfield Beach area. It's part of the second reef system found throughout the greater Fort Lauderdale area. These are several islands in a north-south configuration that are a few hundred feet around and are filled with marine life. It's not uncommon to swim through many schools off grunt or small snapper as we search for spiny lobster. Ever since Hurricane Irma, several months ago, the reefs have been filled with a tremendous amount of lobsters in shallow water.
The second dive was on the third reef to an area called Frick's Reef, just south of the Deerfield Beach International Fishing Pier. This is a wall dive and again the reef was teeming with marine life.
With continued warm water temperatures and the outside air a little cool and less humid, the diving has been nothing but spectacular recently. Add to that today we had 40-foot of visibility and flat ocean conditions, the real Black Friday Specials after Thanksgiving were under the water.