Da Campo Osteria at the il Lugano Hotel - Dine Out Lauderdale
By The Foodaholic
October 12, 2013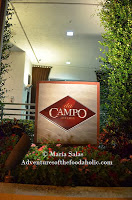 After watching Letters to Juliet for the 53rd time, I started out my first Dine Out Lauderdale adventure for 2013 at an Italian restaurant that, while the food was not necessarily from Verona, it was from Tuscany, Rome and Florence, which in my romantic state of heart, was close enough. Da Campo Osteria, located at the il Lugano Hotel and Residences at 3333 NE 32nd Avenue in Fort Lauderdale, is a charming, elegant place with stunning views of the Intracoastal waterway. It has a warm, cozy ambiance and an open kitchen with a chef's table that will make you feel like you're back in Roma, getting ready for a homemade fea st. I have to start by telling you that the bread presentation was lovely. A board of different types of breads was served with a tomato jam, roasted garlic dip. and olive oil and balsamic vinaigrette combo that were to die for.
The Dine Out Lauderdale menu has some fantastic selections and we were psyched to get started. One of the things Da Campo Osteria is famous for is their tableside preparation of freshly pulled mozzarella. I was ecstatic to see that they offered a Tableside Prepared Caprese Salad as one of the appetizers part of the Dine Out Lauderdale promotion. We had fun watching the enthusiastic chef knead and pull the curds as he used the finest of ingredients to prepare our salad. The heirloom tomatoes, fresh basil and vin cotto, topped with flavorful balsamic vinaigrette were both refreshing and delightful. We also ordered the Jumbo Meatball, prepared with veal, beef, pork and housemade pomodoro sauce. At first glance you might think, "ah, it's a meatball". But when you bite into that tender, tasty, explosion of Italian flavors, there's just no turning back. I can't remember a meatball tasting quite as incredible before; with such perfect texture and combination of ingredients. It was my dining companion's hit of the night.

Initially, I was going to choose the Wood Fire Roasted Wild Salmon as my entree, but it had been a busy night and they had run out. Instead, they were substituting the dish in the promotion with a Seared Tuna. No problem for me since I am a devout lover of the chicken of the sea. The tuna was nicely seared and came served with farro and an amaretto broth. I wasn't crazy about the farro, since I'm not a fan of the grainy and nutty flavor, very similar to brown rice. But it is gluten-free and rich in fiber, so if you enjoy healthy alternatives, this side dish is for you. Our second entree was the Barolo Braised Short Rib Ravioli, bathed in calabrese spiced pomodoro and a pecorino romano. The homemade pasta was delicious, and the bold flavors of the short rib tucked away inside the mouthwatering pockets went exquisitely well with the pomodoro sauce.
We ordered both of the desserts on the menu and I think I saw fireworks when I dipped my spoon in each one. The Tiramisu Souffle and the Warm White Chocolate Bread Pudding were both unbelievable.The only problem we had was that we were both a bit nervous the other was going to get more spoonfuls of each so we swallowed like our life depended on it. I had never had tiramisu in a souffle and the minute we cut a hole in it and poured the mascarpone cream inside, it was like we were in a dream sequence of dessert heaven. It was also served with a scoop of creamy mocha gelato. The Bread Pudding, oh the Bread Pudding, I can still taste it now. Moist and sweet with a rich chocolate ganache, I would easily roll around in it for a lifetime. It was served with vanilla bean gelato and plated quite seductively.
What a perfect beginning to my Dine Out Lauderdale adventures! Just think, all this for just $35 per person, plus tax and gratuity. And something that stood out to me, was that the portions were not smaller just because the price was. It is truly a great deal. For more information on Da Campo Osteria or to make reservations, you can call them at 954-226-5002 or visit them online at dacamporestaurant.com.