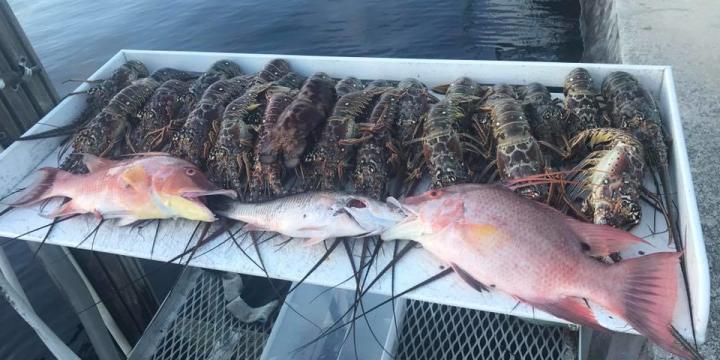 Underwater Report
8am-outside air temperature - 80 degrees, warming to 92 degrees by 10am. 86-degree water temperature with one-foot waves, a moderate south current and visibility of 50 feet.
Vessel & Crew
Private vessel-Chiefy (29' Sea Vee with twin 300 hp Mercury Verados)
Crew- Chuck Van Buskirk, Tom Campbell, Shelby Barras and myself.
Dive, Dive, Dive
We started off the day putting Chuck in a "honey hole" just north of the Deerfield Beach International Pier in only 10 feet of water. This is very shallow natural reef 200 feet off the beach. There were over 100 lobsters in this one hole approximately 20 feet around…but everyone was short. Very good for them, very bad for us.
We moved out to the 30-foot reef, starting in Deerfield Beach, just east of the pier. Chuck and Shelby paired up and with the south drift, ended near the city limits of Deerfield and the start of Hillsboro Beach. Tom and I took over, staying on the top of this reef, which is almost continuous and named the Hillsboro Ledge.
Hillsboro Beach doesn't have a public beach area and is known for its wealthy residents. It extends to the Hillsboro Inlet where the lighthouse and the Hillsboro Club are located. There are some condominiums, rental properties and many single-family mansions. Most notably the $159 million 11-bedroom mansion called Le Palais Royal.
The number of rich residents lends itself to the nickname of "Millionaire Mile." But the real treasure is found only 100 yards off their beaches…the abundant coral reefs filled with spiny lobster and fish.
Today was just a relaxing day with great friends who are also members of the South Florida Spearfishing Club spearfishing.org. We caught our limit of spiny lobster and a few nice hogfish. After doing the shallow reefs we moved to the wreck called the Ancient Mariner. With a south current, there are two other wrecks nearby and then a short distance to a very impressive reef wall to the east.
There aren't very many places in the world where a diver can grab the riches of the ocean in a limit of spiny lobster and then jump into a few nearby wrecks. 'Diving It All' was the common theme today, and the Chiefy Crew took full advantage of our treasures.