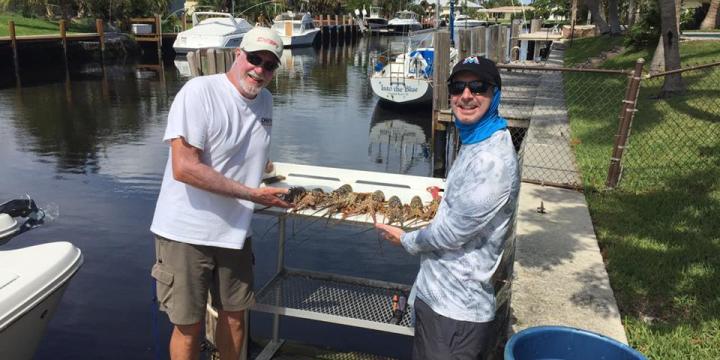 Underwater Report
8am-outside air temperature - 80 degrees, warming to 93 degrees by 10am. 84-degree water temperature with one-foot waves, a mild north current and visibility of 40 feet.
Vessel & Crew
Private vessel-Chiefy (29' Sea Vee with twin 300 hp Mercury Verados)
Crew- Chuck Van Buskirk, Kyle Van Buskirk, Fin Barnes and myself.
Dive, Dive, Dive
We put Chuck in with his son Kyle on the 30-foot reef north of the Deerfield Beach International Pier. They were excited as it had been a few years since they both had been able to scuba dive together, as they both lead very busy lives. All of us had to be back early, so today was a quick one dive to catch a few spiny lobsters. They were only able to grab three lobsters, so we moved to the "honey hole" where I had put Chuck in yesterday. This natural reef is just north of the Deerfield Beach International Pier in only 10 feet of water and yesterday had over 100 very small lobsters.
But today was a different day, as about half had moved out of the hole but they were able to grab six keepers that weren't there yesterday. They were freediving for theses lobsters as they had used their one tank on the previous dive. Our friend and visitor Fin Barnes from England could snorkel above them, witnessing the capturing of the tasty crustaceans. Fin even remarked, "they don't have these in our chilly water off the coast." They do have a variation of spiny lobster in the Mediterranean Sea, but it's not very common to dive for them. The cold-water lobster with claws like our New England 'Lobsta' can be found off the coast of northern Europe. This was a special treat for Fin, as he hovered in his mask, snorkel and fins above Chuck and Kyle. They even used the 'old school' net and tickle stick, as the hole with its one-foot ledge seemed to work a little better than the snare they usually use.
A great, short day for father and son, Chuck and Kyle and our friend from England. Where else can you dive 200 feet off white, sandy beaches and bring home a tasty dinner in ten feet of tropical warm water?
Dive It All in the Greater Fort Lauderdale area!