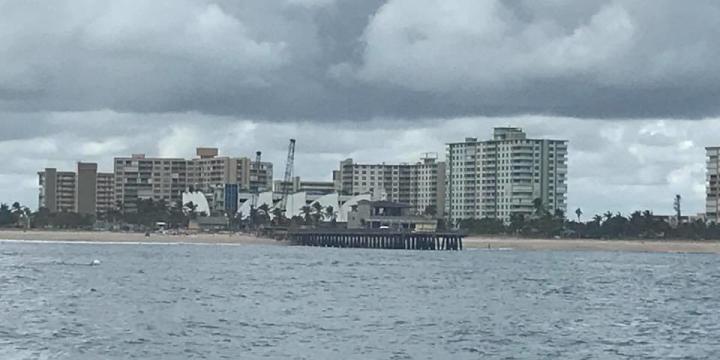 Underwater Report
8am-outside air temperature - 78 degrees, warming to 88 degrees by 10am. 84-degree water temperature with one-foot waves, a mild north current but changed to a south current toward the end of the day with visibility of 30 feet.
Vessel & Crew
Private vessel-Chiefy (29' Sea Vee with twin 300 hp Mercury Verados)
Crew- Chuck Van Buskirk, Marshall Sklar, Sue Cocking and myself.
Dive, Dive, Dive
Today was the first "cool front" coming into south Florida, resulting in a little cooler outside air temperatures. This shift has the weather coming from the northwest and a reduction in the humid, tropical weather from the southeast. I really enjoy diving this time of year as the water temperature is very mild and the outside temperature is a little cooler with less humidity.
Sue and I jumped in on the "honey hole" the Chiefy crew has been visiting daily for the last two days. This hole is in 10 feet of water and on Monday had 100 short spiny lobsters. Today we could grab six nice sized "bugs" and there were only about 25 shorts still left in the hole.
After the visit to the hole we dove the eastern edge of the second reef off Deerfield Beach and found a few spiny lobsters. Sue was the former Outdoor Writer for the Miami Herald and now a blogger for the Guy Harvey Outpost. She's very comfortable in the water and a very good lobster diver.
Marshall and Chuck did the second reef in Deerfield Beach called Separated Rocks and landed a few fish along with more lobsters. We moved south to a Pompano Beach area north of the Pompano Beach Pier. From the water you can see the construction cranes for the new pier and a new building for a few restaurants. The iconic parking garage with its sails on the outside stands just a few hundred yards north of the new pier. This area will soon become a destination location for residents and visitors and we got a great view of the progress from the ocean.
We finished our dives with almost a limit of spiny lobster and some nice fish. I was glad to get a good friend diving with me and witness the beauty of Pompano Beach above and below the water.