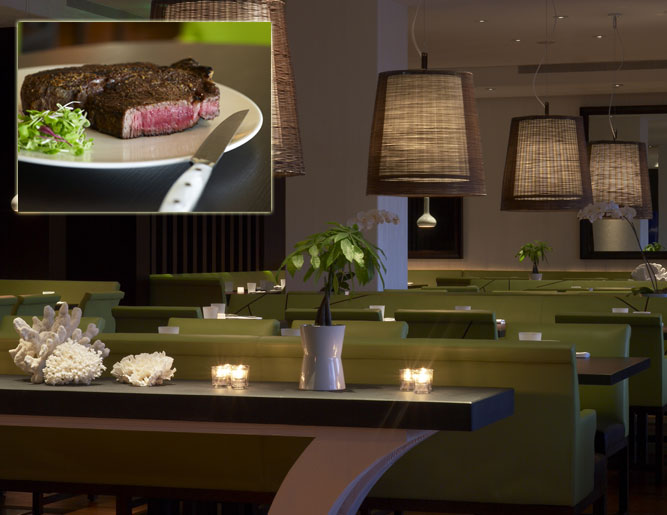 Dine Like a King or Queen during Dine Out Fort Lauderdale
 ~ Andrea Richard, South Florida Gay News (SFGN)

Sure, Fort Lauderdale offers a vibrant and fine array of seemingly endless dining options. But the steep prices might compete with your champagne taste buds. While indulgence is costly, foodies can take advantage of Dine Out Fort Lauderdale, to save without compromise.
This dining promotion going on through November 7, offers diners specials on selected three-course menus at a fixed rate of $35. The deal is actually worth $55 or so per diner, and is served up at forty participating restaurants including top area favorites such as Pompano's Café Maxx, Las Olas' delightful Chima Brazilian Steakhouse, and, of course, electric Tee Jay Thai Sushi in Wilton Manors.
The menu consists of an appetizer, entrée and dessert. Tip and cocktails are not included in the deal. Celebrity chef darling Paula DaSilva of Hell's Kitchen fame is participating in Dine Out, with a fine pan roasted halibut dish served with pork friend rice and pickled vegetables at the beachside eatery 3030 Ocean. For appetizer DaSilva has made a grilled brussel sprout Caesar, and for dessert her roasted-banana crème brulee is sure to delight those with discriminating tastes.
In name of research, SFGN made a recent visit to Steak 954, one of the restaurants on the lineup. The swanky, boutique steakhouse inside the W hotel boasts a stunning atmosphere amid beachside views and a sleek fish tank filled with floating jellyfish. The ambiance is magical, and the service is friendly and on-point. For the appetizer, we chose the snapper tiradito, a delectable ceviche that had us cleaning our plates and asking for seconds.
For the main course, we selected the eatery's specialty petite filet mignon. The mouthwatering filet was nicely seasoned, tender and cooked to perfection. The meal was capped off with a slice of frozen chocolate and peanut butter layer cake. It was a happy ending to an excellent meal.
For Dine Out Fort Lauderdale's restaurant lineup and all the menu details, visit www.sunny.org/dineout. Dine Out Fort Lauderdale is available through November 7. Be sure to visit the website before heading out, as certain nights are not available.