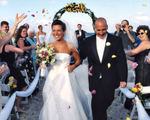 Get ready residents of Fort Lauderdale and South Florida: Party, Event and Wedding Season is almost upon us! Yes, the last six months may have been on the hot side, but we all know that the next six months is going to be absolutely perfect. Residents of Fort Lauderdale and Broward County look forward to this time of year all summer. Of course, so does the rest of the planet!

While people in the north are battling cold winters they seek relief by visiting South Florida. Fort Lauderdale is known as the "Venice of America" due to the numerous canals and waterways that intersect the city, but it has so much more to offer. From stunning beaches (accessible from some of the world's finest hotels) to amazing dining on Las Olas Boulevard, Fort Lauderdale is a major destination for brides, grooms, corporate retreats, participants in expos, conventions and trade shows AND anyone else looking to throw a party or event.
As the owner of EviRental.com it is my job to make sure that guests to this great city find exactly what they need to make for the best trip, vacation or visit possible. If you're planning on making Fort Lauderdale a destination for a wedding, party or event in your future, please consider the following tips:

Tip #1: Choose Where to Stay

Fort Lauderdale is home to some of the most beautiful and amazing hotels in the world. Once you've chosen Fort Lauderdale, take the time to make sure that your stay will be incredible. If you're planning an event like a wedding, our hotels may be the perfect venue for you. It is also important to remember that whether you're a visitor or a guest, your guests will need a place to stay! You can start looking for the perfect hotel by visiting the hotel pages on www.sunny.org.

Tip #2: Talk to an Expert

Unless you're a professional wedding or event planner, the chances are that you haven't planned too many events or parties beyond some birthday parties! That is always good practice, but a larger event, like a wedding or a corporate retreat, takes a lot more to put together. I strongly recommend that you talk to a local wedding or event planner who can help you. Yes, they are professionals and they cost money, but it has been my experience that they end up saving people both time and money in the long run.

Tip #3: Use Local Vendors

This may seem obvious, but you'd be surprised! Fort Lauderdale is home to the best party and event companies in South Florida. Whether you need flowers, lighting, or caterers Fort Lauderdale companies will make sure you get the best available in South Florida.

Tip #4: Consider the Weather

The weather in Fort Lauderdale is absolutely beautiful year round. Of course, some seasons have a bit more risk than others. If you are planning a wedding or event during the rainy season (May-October), make sure you have a backup plan. You may have always dreamed of getting married on the beach, but I'm sure that you don't want to get married in rain storm! At the very least make sure that you rent a tent to protect your guests from the potential bad weather (or the bright sun)! You can find multiple quotes from tent and event rental companies using my service www.evirental.com to save you time and money.

Tip #5: Make Fun Suggestions for Your Guests

If you have guests coming in from out of state or out of town, take the time to suggest great activities for them. Many people like to come to Fort Lauderdale early or to stay late. Fort Lauderdale has a number of fun activities and things to do. You can scuba dive, attend boat shows, go to the beach, relax in a spa, go fishing, play golf, try water sports, attend lectures, visit museums, and dance the night away. If you have an event or wedding website, link to www.sunny.org, but make some suggestions for your guests. Prepare a welcome basket with some maps of the area, lists of things to do and some great products from local businesses! Trust me, you're guest will be delighted!

Tip #6: Enjoy Your Stay

Obvious right? I just wanted to make sure you didn't forget to have fun!
-Michael Riordan, Co-Founder, EviRental