Cafe Maxx Brings Tradition to Dine Out Lauderdale
~ Adventures of The Foodaholic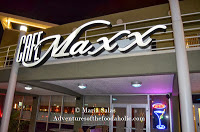 You know that when a restaurant has been around for 30 years and still packs the house, they're doing something right. My latest Dine Out Lauderdale adventure took me to Cafe Maxx, located at 2601 East Atlantic Blvd in Pompano Beach. A cozy, charming location exuding a warm, inviting atmosphere, Cafe Maxx is the kind of place where everyone is made to feel at home. As soon as we walked in, I noticed that the dining area was not only full, but guests from one table repeatedly seemed to know guests from another. The owner, Darrel Broek walked around and interacted with the patrons, and it seemed more like a welcoming, family gathering than a restaurant visit. It's no wonder. For three decades, this establishment has been providing VIP service to all who enter with its innovative cuisine.

I found out early on that Cafe Maxx changes their menu daily. With the exception of several signature items that are always offered, the majority of the menu change depending on the availability of ingredients. I looked at both their Dine Out Lauderdale menu and their regular one and realized I wanted to try it all. Their Dine Out Lauderdale menu includes a stellar choice of dishes from their regular menu but it is just the beginning of the incredible and creative array of items their chef/owner Oliver Saucy prepares. After a while of perusing, I knew it would be one of those evenings I would be eating for three.
We started with the Sterling Beef Carpaccio, a colorful dish of edible art prepared with thin slices of beef, then topped with arugula salad, herb confetti, and garlic aioli, with a touch of olive oil. It was served with an herb crostini. The beef was fresh and flavorful and its taste lingered on the palate for some time. Our second appetizer was the Kobe Beef Meatballs, served over wasabi mashed potatoes, stir fry vegetables and a beautiful mosaic of sauces. It was just as splendid. In addition to these two dishes, there were another seven amazing appetizers to choose from for the Dine Out Lauderdale promotion. Now, as I enjoyed these delicacies, I glanced over to the table next to ours, and saw what appeared to be a mirage. On the plate, sat what appeared to be a thin crust pizza....but wait, I thought I saw tuna and perhaps caviar. So I called our friendly waitress over and asked her what was that vision I saw the fellow next to us having. It turned out to be a Tuna Sashimi Pizza, with wasabi cream cheese, sweet soy and tobiko caviar. Say what? We looked at each other and the incredibly delicious empty plates of appetizers we had devoured and it wasn't necessary to exchange any words. Our eyes said it all. "We'll have one of those too, please." Absolutely divine!
The selection of entrees on the promotional menu was extremely varied as well. We went for the Three Peppercorn Crusted Pork Tenderloin and the Sweet Onion Crusted Yellowtail Snapper. I can't even begin to tell you which of these two dishes I preferred because they both had their own distinct flavors that were so perfectly combined. The Pork Tenderloin was served with blue cheese au gratin potatoes and roasted vegetables. The meat was seasoned nicely and retained the flavorful juices. The yellowtail snapper was an absolutely outstanding dish in both taste and preparation. The tender fish was topped with sweet onion and sat on a bed of scallion mashed potatoes and madeira butter. This masterpiece was crowned with crispy gaufrette potatoes. None of the flavors overwhelmed each other and there was a pleasing mixture of textures in every bite. I would have this dish over and over.
Once again, there was a large assortment of desserts. They all sounded so good we went with one from the Dine Out Lauderdale menu and one from the regular menu. The first sweet treat was the Fallen Chocolate Souffle Cake, from the promotional menu. If I were a cartoon character, my eyes would've popped out the moment I saw it. It was moist, rich and decadent, served with ice-cream, berries and chocolate syrup. Our second grand finale, encore if you will, was the Deep Dish Bourbon & Chocolate Pecan Pie. I have to pause for a minute to reminisce because this was literally a heavenly experience. The pie was served warm, drizzled with chocolate sauce, an assortment of berries and vanilla ice cream.
The portions were generous and the service, presentation and quality of the food superb. We totally enjoyed Cafe Maxx and can't wait to return. For more information, you can call them at 954-782-0606 or visit them online at Cafe Maxx. Remember, Dine Out Lauderdale is still going on. Take advantage before it's gone