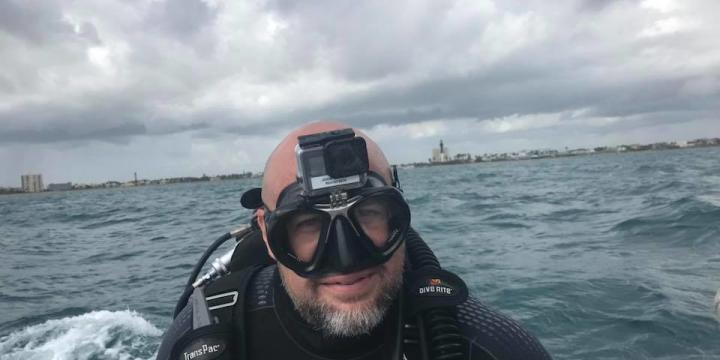 Underwater Report
8am-outside air temperature - 75 degrees, warming to 87 degrees by 10am. 82-degree water temperature with two-to-three-foot waves, a mild north current with visibility of 30 feet.
Vessel & Crew
Private vessel-Chiefy (29' Sea Vee with twin 300 hp Mercury Verados)
Crew- Chuck Van Buskirk, Ben Fallon, John Strunk, Chris Magon and myself.
Dive, Dive, Dive
We headed south toward the Hillsboro Inlet and stopped by the Lighthouse Point Marina for some fuel. This marina is conveniently located near the inlet and has a great restaurant called the Nauti Dawg www.nautidawg.com . We headed out of the Hillsboro Inlet and headed south toward Angler's Pier in Lauderdale-by-the-Sea. This is an area filled with great reefs close to shore. Our diving today was primarily the east side of the second reef, which drops to 65 feet with a distinct edge.
Chuck, Chris and I dove together in search of some spiny lobster. Drift diving along the edge of the second reef allows all of us to stay together but cover a lot of area. The north current wasn't very strong, allowing us to take our time as we drifted over a lot of reef structure. As we headed north, we turned to the west, drifting along the top of the second reef in 45 feet of water. We're still less than one-half mile from shore but not many shore divers venture out this far from the beach.
John and Ben dove together on an area north of the Pompano Beach pier. These are shallow reefs located close to shore and make for easy diving. They were able to spear a few snappers, which are abundant along these shallow reefs. These snappers make for a nice meal when you bake them whole, just requiring scaling and removing the gills and insides. Some folks like to grill them whole, however, I have found they fall apart on the grill, so baking is my preferred method of cooking these smaller snappers.
Each group did two dives allowing us to get our limit of spiny lobster. A beautiful day, warm weather and plenty of fresh seafood for dinner---where else can enjoy this in October?