Whether you want to admire the turquoise water from under the shade of an umbrella, or take a shoreline jog and let the waves cool your toes, there are so many ways to enjoy the beaches of Greater Fort Lauderdale.
Live Beach Cam
Watch the sunrise and check the surf before you even pack your bags. Or wave to your friends back home from your sun-soaked spot on the beach! Our webcam is streaming live in HD, so you can visit anytime from anywhere. Tune in for views of the sand and surf, and stay to catch a glimpse of the Everglades, waterways, hotels, and more.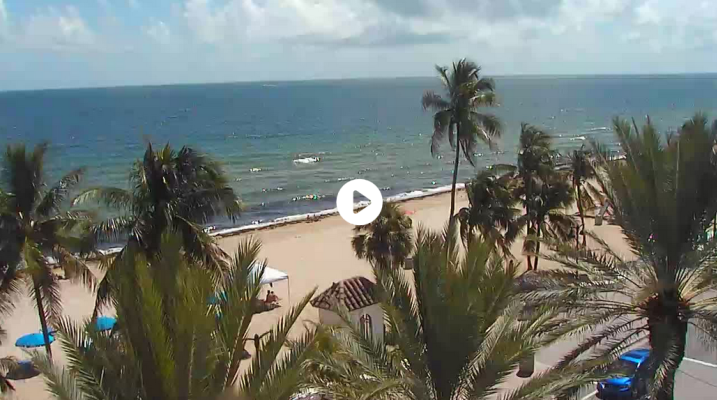 Sea Turtles
The beaches of Greater Fort Lauderdale are special because they provide habitat for at least three different sea turtle species. These ancient creatures have been around since dinosaurs roamed. Mother sea turtles navigate by the light of the moon to come ashore and bury their eggs. They immediately leave them to return to the sea. The eggs need to stay safe until the hatchlings emerge about two months later.
Please keep your distance from any nests or turtles you might see. Always pick up your trash and beach furniture, fill in any holes you make in the sand, and turn off or cover your lights if they're visible from the beach—any light that isn't from the sun or moon can confuse and hurt the turtles.
Scenic Highway
Whether you have a day or a week, you'll want to make time for a pleasure trip along scenic State Road A1A. It's the perfect way to sample the variety of beaches, trails, wildlife, and history our region has to offer.
Period architecture, historic statues, and archeological preserves await you. Marvel at the shifting colors of the Florida sea. The state is famous for biodiversity—how many species of birds can you name along your drive?
Try one of the itineraries we've assembled for you, or wing it along with the herons and osprey. Either way, you're bound to glimpse a spot to pull out and enjoy. Snorkeling, fishing beaches, a majestic lighthouse—where will you make your first stop?