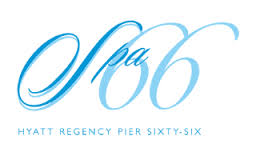 I am a sucker for everything that is spa, the aromatherapy, the music and every offered service. Spa Chic at Spa 66 did not disappoint.

I entered the spa at 1:30pm puffy eyed and overtired and left around 5:30pm refreshed, calm and magically 10 years younger.

For $99 ($148 including the tip on what would have been the full price) i could pick two spa services. I chose the Ocean Facial and the Massage. (The manicure/ pedicure was the other.) I hope the rest of my life is filled with choices like these.

The newly designed Spa 66 is part of the Hyatt Pier 66 Hotel. The Spa offers a completely remodeled and redesigned area designed to focus on the five senses, Sight | Smell | Touch | Taste | Sound.

After a short walk through the hotel from free self-parking, I entered a recessed deep blue, backlit hallway into the spa and checked in.

First I was escorted to the locker room where I changed into my thick white terrycloth robe (oops! a hole in the seam) and dark blue rubber slippers. I was also given a blue towel but it was so small I was never sure what it was for.

From there I waited in the lounge where staff facialists, masseurs and technicians came to collect their clients for various services. The white lounge had orange and lemon infused water, a glass bowl of apples, pears and bananas and choices of Yogi teas. The flute music and the waterfall wall added to the hushed atmosphere of the whole place.

Another area within the spa to relax is the Octagon Sanctuary where Japanese Koi swim in a tiled pond. This indulgence is designed to restore your peace even before you get any services at all. The only problem here is that this lovely area has only one bench to sit on.

The fully stocked locker room had a large steam room and large sauna although neither were on when I was there. Near the lockers are extra towels, and luxurious shower product essentials to use.

First was my the 50-minute aromatherapy ocean facial. My esthetician brought me in to her dimly lit room where I slipped on to the heated padded table and covered myself with delicious silky covers. Once I was settled, she re-entered the room and assessed my skin type so that the right marine based potions would be used for my skin.
After washing, steaming and exfoliating my face with a Q-tips, she put on a face mask and massaged my neck, shoulders and arms while the mask was drying. Not only did my skin feel soft, I was totally relaxed.

Then back to the lounge to rest, drink some of the orange infused water and wait for my next service, a massage.

I told the masseur that my lower back and neck were feeling some strain and that my muscles could take deep pressure. He was very strong and did indeed dig out all the tightness in my muscles. He also added a hand and foot massage. After 50 minutes, I left with that rare combination feeling of both very energized and calm.

I returned to the lounge area to think about what I could take home from my spa day. I learned that using plain vitamin C on my face was better that using moisturizers. I learned some simple neck stretches after the massage that would make my neck more flexible.

I also realized that I do not treat myself to days like this nearly enough.
Spa Chic at Spa 66 is valid September 1-30, 2013.
Spa 66 at Hyatt Regency Pier 66
2301 SE 17th St Causeway, Fort Lauderdale, FL 33316
954-728-3598