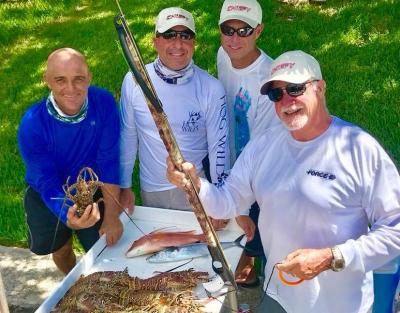 Underwater Report
8am-outside air temperature – 81 degrees, warming to 91 degrees by 10am. 84-degree water temperature with a calm east breeze, flat seas, a mild north current and visibility of 40-plus feet on the reef.
Vessel & Crew
Private vessel-Chiefy (29' Sea Vee with twin 300 hp Mercury Verados)
Crew-Chuck VanBuskirk, Ken Udell, Carmine Dilorenzo, Steve Siegel and myself.
Dive, Dive, Dive
Today we added another Chiefy Crew member, Steve Siegel, an attorney who lives in Lighthouse point and a member of the Saltwater Fishing Club. They have a group of divers within their club, but he wanted to dive with us to get a better understanding of our way of diving. The rest of us are members of the South Florida Spearfishing Club www.spearfishing.org.
We drift dive, meaning, the boat will follow the dive flag with the divers under the water. Today we targeted spiny lobster as there's been a good harvest this year. We dove in the 40-foot area where the reef is a north-south line of islands. The area is called Separated Rocks and it's located directly off Deerfield Beach. The county has recently added mooring buoys to some of the islands, but you just need to navigate around them.
Steve is also an accomplished freediver and spearfisherman, but today we were scuba diving. Holding one's breath while trying to harvest lobster in the reef at 40-feet is challenging, even for the most accomplished freediver.
Today turned out well in grabbing some spiny lobster and landing a few fish. We almost always bring our spearguns as you never know what fish you will see while grabbing some lobster. I did find a speargun, in almost new condition, laying on the sand, someone had lost recently. Finding spearguns, spearing fish and catching lobster, it's all part of the plan.
Steve enjoyed diving with the Chiefy Crew today and got to bring home some spiny lobster tails for his family. And for us, it's always a pleasure to introduce another diver to the Chiefy Crew.