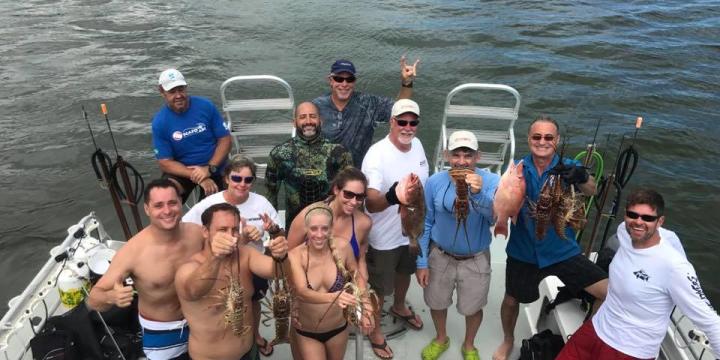 Underwater Report
Boarded the boat at 8:30am at Marina One in Deerfield Beach with an outside air temp of 76 degrees. The outside air warmed to 88 degrees by mid-morning with the water temp of 81 degrees. We encountered a moderate north current and visibility less than ten feet.
Special Note-This was the first post Hurricane Irma dive with a drop of five degrees in water temp and very poor visibility. The reefs had some damage to a lot of the soft corals and sponges.
Vessel & Crew
Commercial Dive Charter-Lady Go Diver-46' Newton dive boat
Crew-Captain Bradley Williams with Divemaster Jeremy greeting the 10 divers as we ventured out of the Boca Inlet and headed south off Hillsboro and Deerfield Beach. My dive buddy for today was former Sun-Sentinel Outdoor Writer Steve Waters and we were both curious as to the condition of the reefs after the Hurricane.
Dive, Dive, Dive
Our first dive was in 75 feet of water off Hillsboro Beach. The ocean was flat but the visibility was less than ten feet throughout the dive. Because of this we made staying together as dive buddies a priority and along the way I was lucky enough to find one spiny lobster.
Our second dive was the eastern edge of the second reef with little improvement in the visibility. I did get a nice Red Grouper along the edge of the reef, but only found a few small lobsters.
The condition of the reefs showed a lot of debris and some damage but with the limited visibility, it won't be fully known until the visibility improves. Diving today was a nice break from the after-storm recovery efforts. All of us divers today were in the "Same Boat," talking about who had gotten power back and what damage they encountered to the homes.
Personally, I had some tree damage and lost a portion of a fence but the power was restored while I was out on the boat. Diving today allowed us to start to feel normal again even if the reefs will take a little time to recover. It won't take long for everything in the greater Fort Lauderdale area to get back stronger than before…including the reefs.