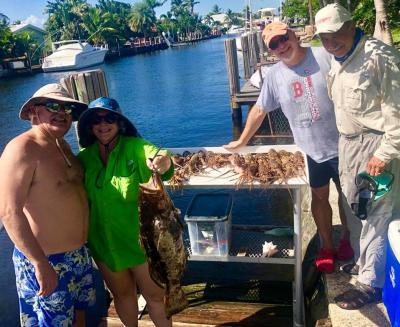 Underwater Report
8am-outside air temperature – 80 degrees, warming to 91 degrees by 10am. 84-degree water temperature with a calm east breeze, flat seas, a mild north current and visibility of 40-plus feet on the reef.
Vessel & Crew
Private vessel-Chiefy (29' Sea Vee with twin 300 hp Mercury Verados)
Crew- Beth Rice, Richard Rice, Eric Polmales, Paul Struzziero and myself.
Dive, Dive, Dive
The weather has been incredible with warm air and water temperatures, and calm winds with flat seas. This has been ongoing for a while as it seems the summer has extended into September.
We dove the third reef area off Deerfield Beach where the top of the reef is 50-feet and the bottom drops to 65-feet. This wall structure has a large amount of marine life with the possibility of spearing some fish. We also found lobster on the patch reefs west of the wall in small clusters together. This made for a great day of getting spiny lobster and in addition, Richard landed a nice black grouper.
Beth and Richard as husband and wife dove together and are used to hunting as a team. Eric, Paul and I drifted the reef, helping each other grab some lobster. The northern current was minimal allowing us to take our time and move east and west, depending on the reef. This was a great opportunity to cover a large amount of the reef as we slowly checked under almost every rock and crevice.
We were able to harvest our limit of spiny lobster but adding a grouper to the menu really is a plus for the day. Thanks to Richard, we were all able to share in some nice fish for dinner.