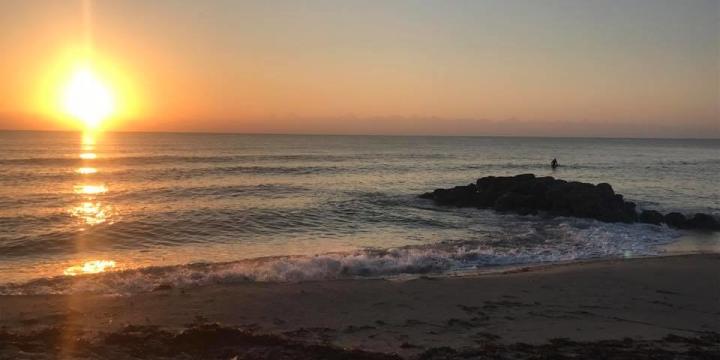 Underwater Report
8am-outside air temperature - 82 degrees, warming to 93 degrees by 10am. 82-degree water temperature with flat ocean conditions, a very mild north current and visibility of less than ten feet.
Vessel & Crew
Private vessel-Chiefy (29' Sea Vee with twin Mercury Verados)
Crew- Chuck Van Buskirk, and myself.
Dive, Dive, Dive
A phenomena after a hurricane is the "Lobster Walk." This is a migratory march by spiny lobster about one week after a storm. The scientists know when this will occur, they just don't know why. This is a spectacular sight as the lobster will come out of the protection of the reefs and move close to shore in a line only a few hundred feet from the beach.
The word got out after some fisherman caught lobster by hook and line from the Deerfield Beach International pier over the weekend. Snorkelers were seen the last few days swimming off the beach diving down in ten feet of water getting their limit of "bugs." We got in on the action today, diving off my boat north of the Deerfield Beach pier.
This was happening throughout the Greater Fort Lauderdale area, from Hollywood, Dania Beach, Lauderdale-by-the-Sea, Pompano and Deerfield. The challenge today was the limited visibility after Hurricane Irma. You couldn't see the bottom in ten feet of water but diving down on a scuba tank made it easy to get our limit. There was a surge close to shore from the two-foot swells, however, catching lobster with an "old school" net and tickle stick was a lot of fun. 
Chuck and I were glad we got in on the "lobster walk" after Hurricane Irma. There is always a good side to going through these storms, and getting our limit of lobster today made the destruction a little easier to handle.