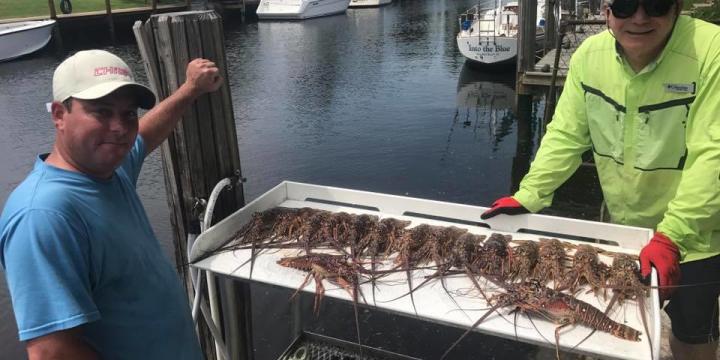 Underwater Report
8am-outside air temperature - 82 degrees, warming to 93 degrees by 10am. 82-degree water temperature with one-foot waves, a very mild north current and visibility of 40 feet.
Vessel & Crew
Private vessel-Chiefy (29' Sea Vee with twin 300 hp Mercury Verados)
Crew- Jack Harari, Patrick Bardes and myself.
Dive, Dive, Dive
We're now in a typical summertime pattern of diving. And that's a great thing when you consider the water temperature is very mild along with great visibility and gentle currents. The start of regular spiny lobster season on August 6th gives an added purpose to diving in the greater Fort Lauderdale area. To sum up the diving this time of year in one word; FUN!
Jack and Patrick both work during the week, so they are primarily weekend Chiefy crew members. But both are very experienced divers and enjoy the sport of Catching the Bug.
We dove in the Deerfield Beach area on the third reef. Located a little south of the Deerfield Beach International Fishing pier is a section called Frick's reef. A vertical wall from the sand in 65 feet to a top of 50 feet. This area holds a lot of fish but we ventured a little to the east, catching some spiny lobster along the back of the reef. This area slopes downward with "fingers" along the eastern edge creating great habitat for lobster to hide. There are a series of small ledges and crevices' where we almost found our limit of six-per-person. We ended up with 16, just two shy of our limit, which added to making it a great day on the water.